Learn how to import your contacts from HubSpot CRM into Google Sheets to send a mail merge with Gmail from your spreadsheet.
info This article is addressed to all HubSpot users. Note that you can get a free HubSpot account which gives you access to the basic functionalities.
Prerequisites: Create a HubSpot account and contacts
If you don't have any HubSpot account yet*, then click on the button below.
*Otherwise log into your account and go directly to Method 1: Use G-Accon for HubSpot add-on
Once you have created your account, go to your contact list. Click Contacts > Contacts.

When you create a HubSpot account, there are only two contacts on your list. These are fake sample contacts provided by HubSpot when you first sign up.
If you want to create new contacts, then click Create contact.

A create contact pop-up appears. Fill the information requested. Then, click Create contact.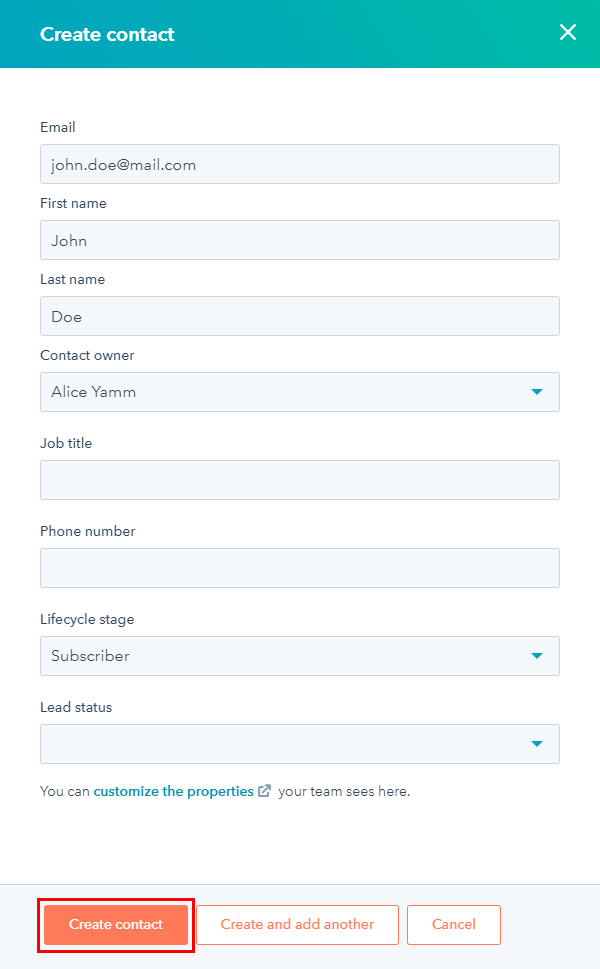 Method 1: Use G-Accon for HubSpot add-on
1. Install G-Accon for HubSpot
Search for G-Accon for HubSpot on your Google Sheets add-on store, or click the button below to install the add-on from the Chrome Web Store.
When you click on Install, a pop-up appears. Click Continue.
Select your Google account, then click Allow to accept authorizations.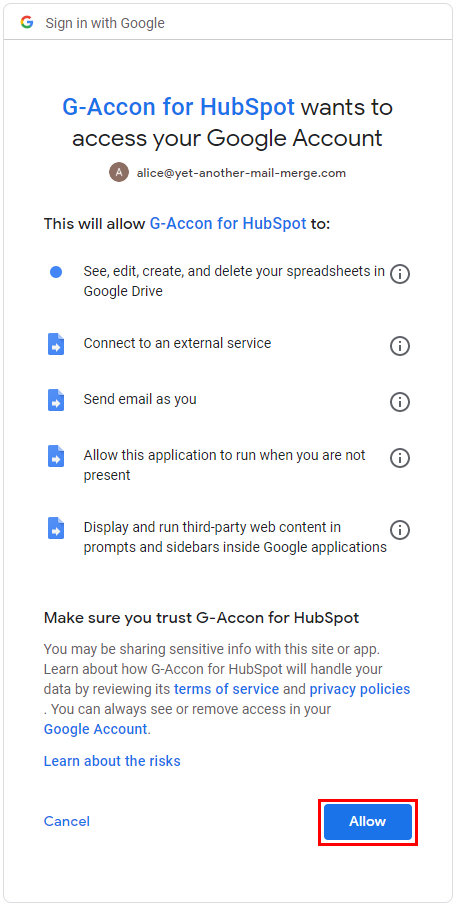 2. Connect your HubSpot account with G-Accon for HubSpot
From your spreadsheet, go to Add-ons > G-Accon for HubSpot > HubSpot Sign in.

A new window will open. Click Log in then Grant access.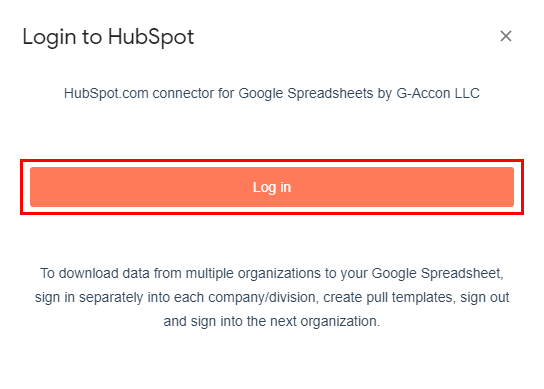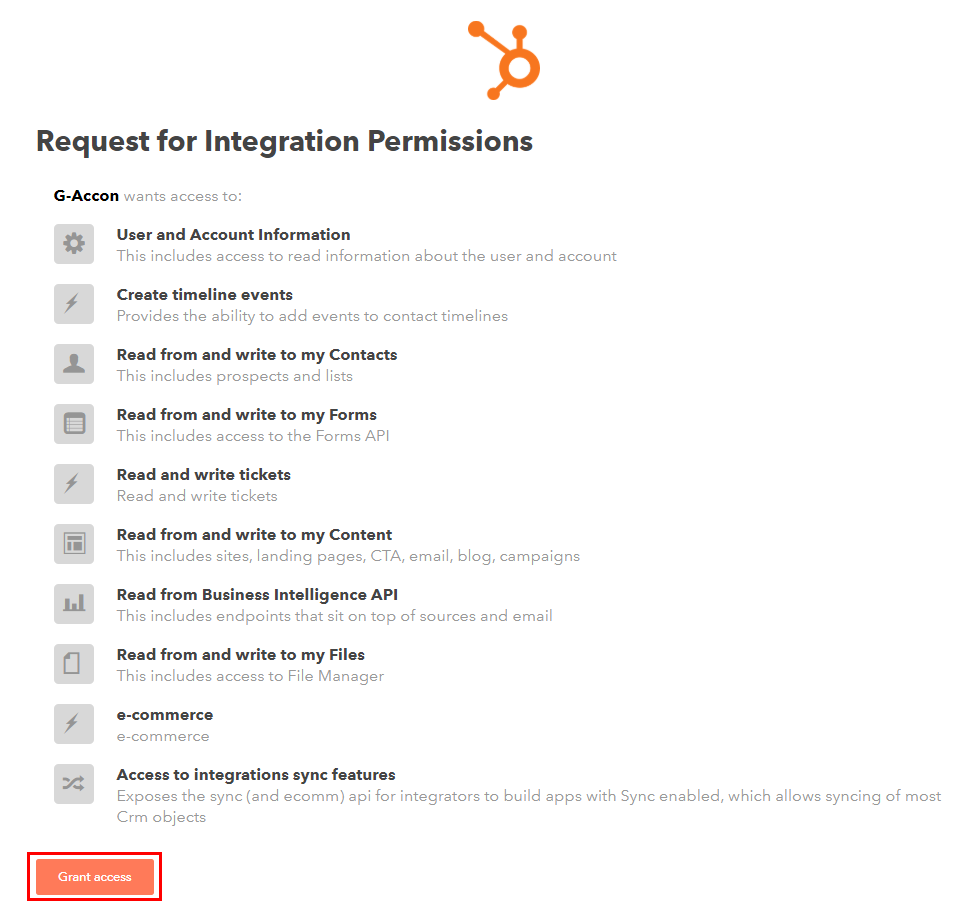 Once done, a confirmation message will open in a new tab.
3. Import contacts from HubSpot
Go back to your spreadsheet, then click Add-ons > G-Accon for HubSpot to see the menu of available functions.
We will choose Get HubSpot Data, as we already created some contact profiles previously in our HubSpot account.

Select the table with the contact list you want to import then select the Date range and tick the different boxes to choose which data you want to be displayed in your spreadsheet.
In our example, we ticked: Create date, Email, First Name and Last Name.
Then, click Execute.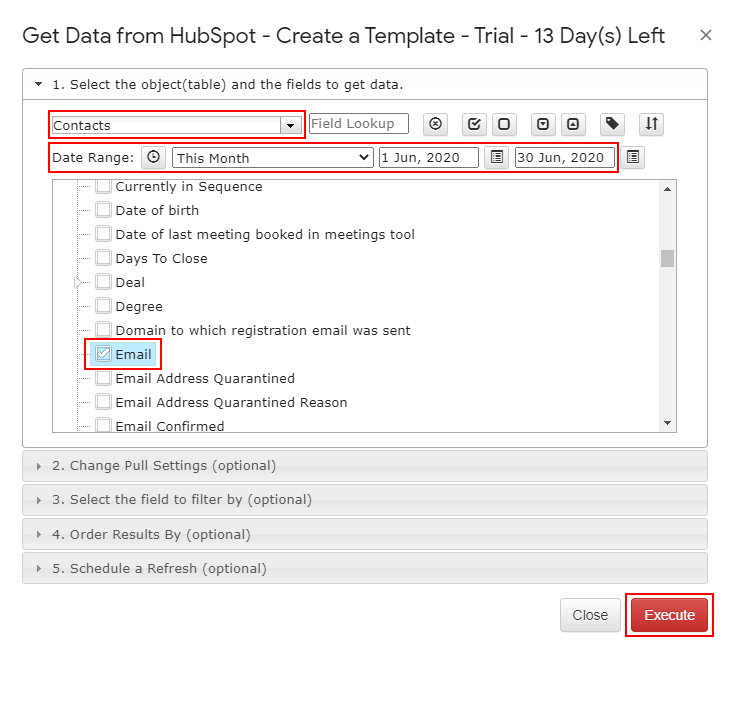 done That's it! You have imported your contacts from HubSpot into your Google Sheet. You are now ready to use YAMM to email your contact list!

Method 2: Import a .csv file in your spreadsheet
To import your HubSpot contact list in your spreadsheet, you will have to export it to a .csv file.
info
If you want to narrow your contact list you can choose among the pre-existing filters or click on
More filters
to create your own filter.

Click All views.

Next to My contacts click Options > Export.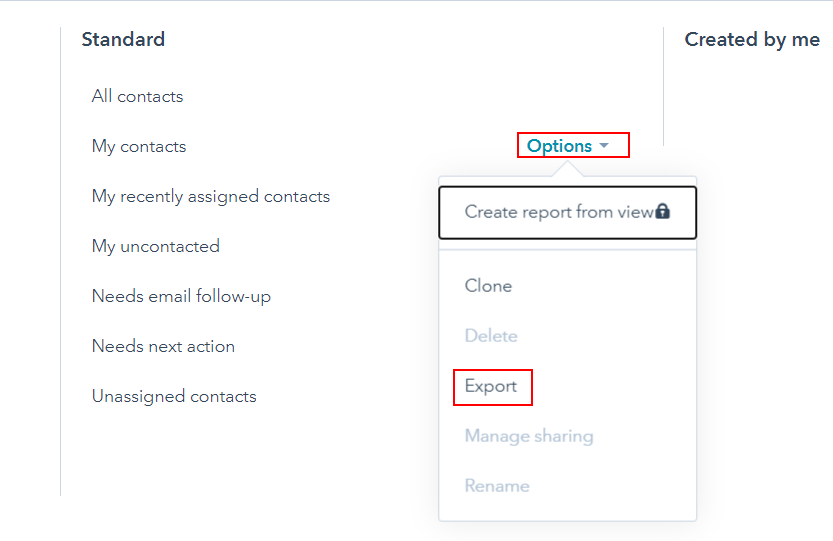 Then, a pop-up appears. Under File format, choose CSV. We select Include only properties in columns by default on Properties.
Click Export.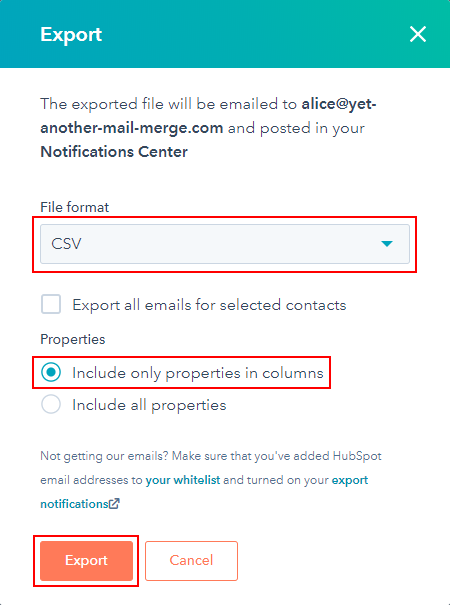 Then a pop-up appears at the top of the screen, click Click here to download.

You can also download your file from the email sent by HubSpot.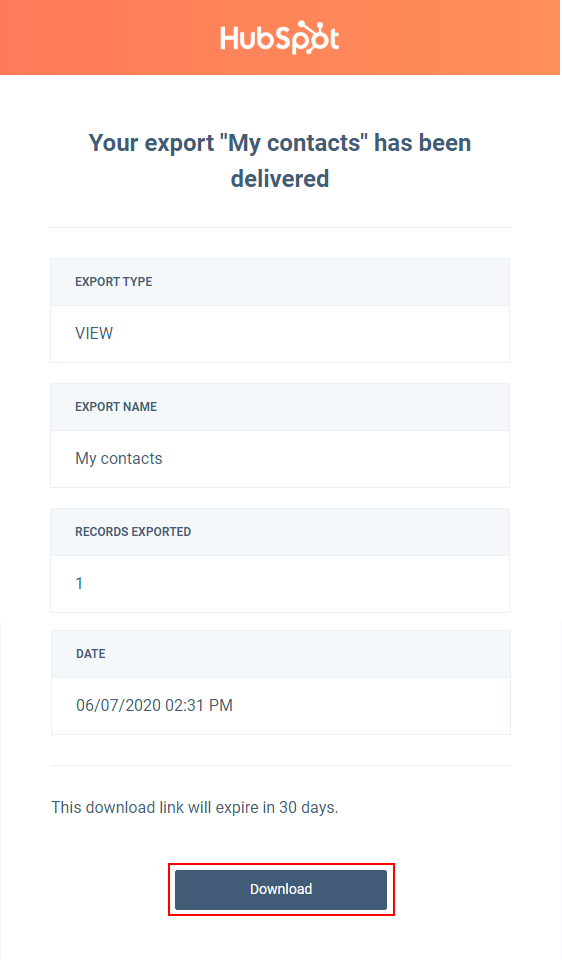 Open your spreadsheet, click File > Import.
Click Upload > Select a file from your computer. Then select your CSV file.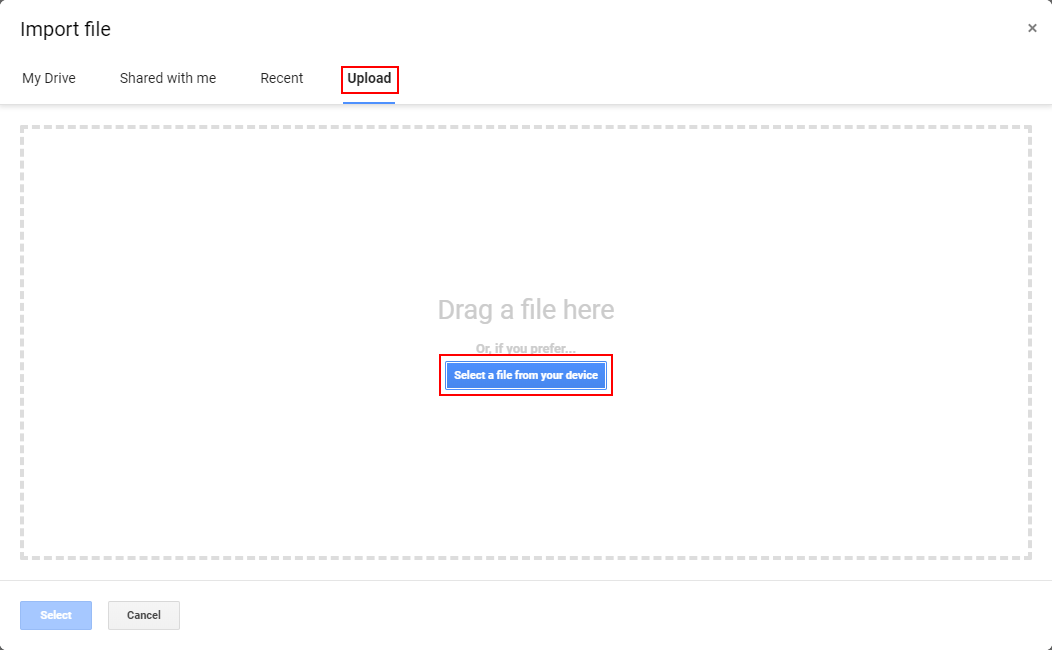 Complete the details on the following pop-up.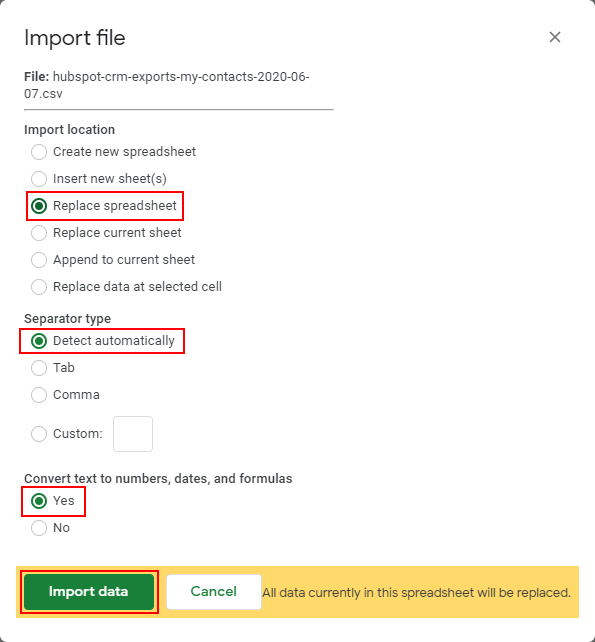 In our example:
We decided to select Replace spreadsheet, but you can choose another location.
We selected Detect automatically but if your data from your .csv file is separated with semicolons, then select Custom and enter ';' as a separator. Check how your data is formatted in your Google Sheets.
We left Yes by default on Convert text numbers and dates.
Finally, click Import data.
done Your contact list is imported from HubSpot to your spreadsheet. You are now able to send your emails with YAMM!