If your organization enforced strict security rules to project your data or your customers' data, you want to ensure that you are compliant with the level of expectations from your client/company when using YAMM. This article explains why YAMM is asking many permissions during installation to use it.
Which authorization scopes do we ask?
When you install YAMM, you are asked to accept many authorizations.
By reviewing the permissions and clicking on 'Allow' button, you signify your acceptance of the Terms of Use and Privacy Policy of Yet Another Mail Merge. If you deny the authorizations, you will not be able to use YAMM: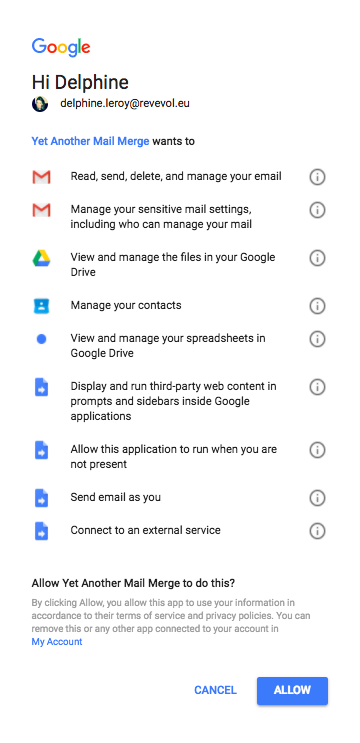 Authorization scopes
Explanations

 Read, send, delete, and manage your email

This scope is required to: Retrieve a draft in Gmail, apply Gmail labels on emails sent, read your emails to track if recipients have responded and/or if there are bounces (if you enabled the tracker).

 Manage your sensitive mail settings, including who can manage your mail

We need this authorization only to retrieve the list of your aliases from your Gmail settings (note that we will never edit or delete them). This is required to send emails from an email alias.
 

 Send email as you

This scope is required for the very core function of YAMM (sending emails). Please read this article learn more: '[DATA PROCESSING] How are your emails being sent out?'

 Manage your contacts

This scope is required to let you import contacts from Google Contacts.

 View and manage the files in your Google Drive

This scope is required only to retrieve personalized attachments uploaded in your Drive folder, and include them in your mail merges. 

 View and manage your spreadsheets in Google Drive

Like the scope 'Send email as you', as many essential functions are done from within your Google Sheets (writing in your spreadsheet, adding filters to segment your recipient list etc.), YAMM needs a total access to your spreadsheets.
Allow this application to run when you are not present
This scope is required for our scheduling option, to update your tracking report in real-time when your PC is switched off, to send notifications on Form submission or triggers.

Display and run third-party web content in prompts and sidebars inside Google applications

As YAMM is displayed inside Google Sheets, this authorization is required to display sidebars such as the tracking sidebar, or the form submission notifications sidebar.

Connect to an external service

This scope is required to send/retrieve information to Firebase, a real-time database from Google that we use to create user profile, with basic information on YAMM usage. Even if this authorization is described as an 'external service', it is still within Google environment.
Rationale behind asking permissions
Yet Another Mail Merge, as an add-on to Google Sheets, is well integrated within G Suite apps like Google Sheets, Gmail, Google Contacts and Google Drive.
It requires access to the Google environment to provide its services seamlessly across the G Suite apps.
So YAMM only requests the above permissions that are absolutely necessary for its function.
Most of them are required by Google and are common to all add-ons. We commit ourselves to use these permissions only to be able to offer you the service that you have signed up for.
Do we put your data at risk?
done Absolutely not. We are very sensitive about protecting your data.
We are asking to access the full contents of your Drive folders and Gmail box, only to allow actions to be performed on your behalf. In no case the textual content of your spreadsheets and emails be used for any other purposes or shared with any third-party services.
Specifically, even if YAMM is asking full access to your spreadsheets with editing rights, this doesn't mean that our support team members are personally able to access your spreadsheet. If we need to access it to provide you support, we will always explicitly ask you to share your spreadsheet with us. Once our investigation is over, we invite you to remove support@yet-another-mail-merge.com from the sharing settings so that we don't have access to your spreadsheet anymore. We won't make any copy of your spreadsheet data. For more information, please read the following article: '[DATA ACCESS] Why share your Google Sheets in Edit mode?'
Exactly like your spreadsheet, even if YAMM is asking full access to your Gmail box, nobody from the YAMM team is personally able to retrieve your draft and make a copy of it. We will always explicitly ask you to share your Gmail draft, and only for problem-solving purposes. Once we fixed your issue, we will delete your copy from our own Gmail 'Drafts' folder.
Besides, we are storing very few information in our database. For more information, please read the following article: '[DATA STORAGE] How and which data do we store?'