Your YAMM mail merge contains images, and you want to ensure that recipients see them. This article explains how to correctly upload images with YAMM.
Upload images smaller than 500kB
To make sure that your images are correctly displayed, you need to add your images as 'inline', and not as attachments.
warning We recommend sending test emails to see if images are correctly displayed. If they're not working correctly, create a new draft and re-insert your image.
Open your Gmail draft and place the cursor where you want to insert the image.
In the Gmail editor, click on the Insert photo icon.
Click Upload and select Inline to ensure that you are adding the image to the body of the email and not as an attachment.
Drag and drop an image or click Choose photos to upload, then select an image. This is what it should look like:
That's it! Your image has been inserted correctly in your email. You can now send it with YAMM, and it will be accurately displayed.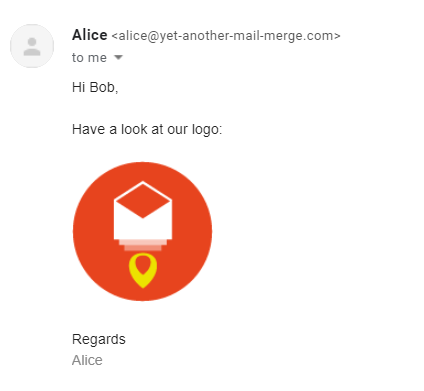 Note: If you have incorrectly inserted an image into a draft, deleting it won't completely remove it from the draft. This can result in larger email sizes which YAMM might have trouble sending. We recommend creating a new draft in a case like this.
Upload images larger than 500kB
For images that are larger than 500kB, we recommend hosting them on Google Drive.
Get your image URLs.

Open Google Drive and upload the image you want to use.
In Google Drive, right-click on the image and select Get link.
Set the appropriate access level to ensure that your image will be displayed correctly for all recipients, then click Copy link.

The link will have the following format: https://drive.google.com/file/d/IMAGE_ID/view?usp=share_link.

An example is https://drive.google.com/file/d/1nk7jW7MjbBCZZg7815AUsmhbGAeWBMOc/view?usp=share_link, where 1nk7jW7MjbBCZZg7815AUsmhbGAeWBMOc is the IMAGE_ID.

Copy the IMAGE_ID and paste it into the following format: https://drive.google.com/uc?id=IMAGE_ID.

Using the example in step 1b, we have https://drive.google.com/uc?id=1nk7jW7MjbBCZZg7815AUsmhbGAeWBMOc.

Insert the image into your email by clicking Insert photo > Web Address (URL) and pasting the copied link into the field.
That's it! Your image has been uploaded correctly.