Sometimes you or your subscribers don't receive the correct email. Instead, your email is full of lines of code instead of keeping the right formatting. This article will explain why and how to avoid this.
Why is my email strangely formatted, with lines of code?
If you see the following codes when you try to send your mail merge, instead of your template and the normal content of your email: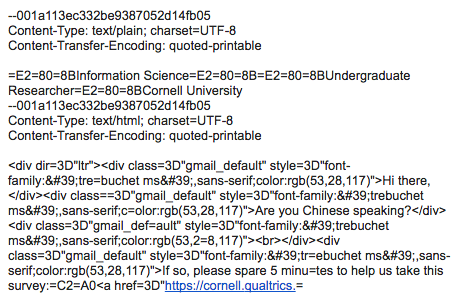 It usually means because you are trying to open your email with another email client than the web version of Gmail, such as Apple Mail, Outlook or Google Inbox. Or it can also happen because you copied/pasted your email from another tool like Word or Google Docs. The HTML within your email might have been broken for some reasons, causing formatting issues or preventing images to be displayed.
To solve this issue, you just need to create a new draft directly in Gmail, otherwise it is indeed possible to end up with messy emails. You can also add a disclaimer at the beginning of your email, to inform your recipients that they should open the online version of your email instead of using a local email client.
I'm already using Gmail but still have the formatting issue
We do our best to get your draft in Gmail and replace the placeholders by data from your spreadsheet without breaking anything. But in some specific cases, your draft might be hard to decode, or the re-encoding before sending the emails might fail.
To help us investigate those kind of issues and be sure they will not happen anymore in the future, we need to inspect the raw content of your email.
To do, follow these steps:
1. Open one of the emails you sent among your 'Sent mails' in Gmail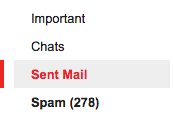 2. Click the down arrow next to Reply, at the top of the message pane and select Show Original.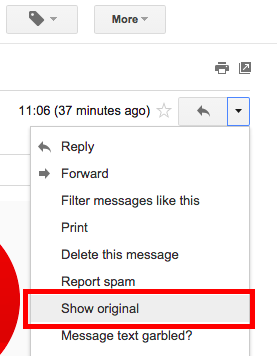 3. Copy this original content or save it as a text file and send it on this form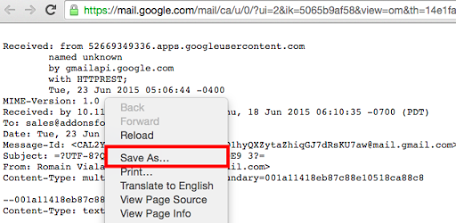 info
To help us quickly see the issue, please also send us 2 screenshots:
a screenshot of your draft
a screenshot of the email sent with YAMM, containing the formatting issue(s)