If you have more recipients in your list than your daily quota, you can tell YAMM to send your message automatically to the remaining recipients when your quota renews.
warning
The scheduling option is a paid feature. To use it, you can purchase a
plan
.
You don't have enough quota for the rest of your mail merge
If you don't have enough quota to send your mail merge to all your recipients, you can choose to use all your quota, and YAMM will automatically send the rest 24 hours later.
A warning appears. Click Send emails.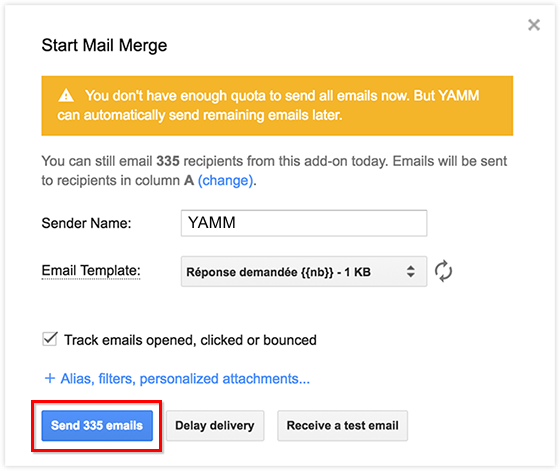 A notification appears. Click OK.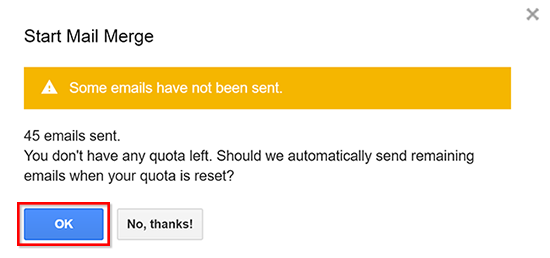 YAMM will automatically send your emails to the rest of the emails listed in your Google spreadsheet as soon as your quota resets.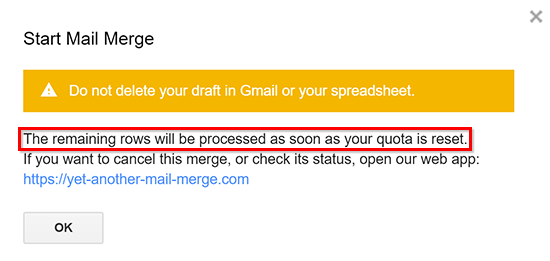 The tag SCHEDULED appears in the Merge status column to inform you which rows (3 and 4 in our example) the add-on will automatically process.

info
To cancel an automatic mail merge,
go to your web app
.

You don't have any quota
If you reach your daily quota and still have emails to send (there are still rows to be processed at the bottom of your spreadsheet), you receive this notification.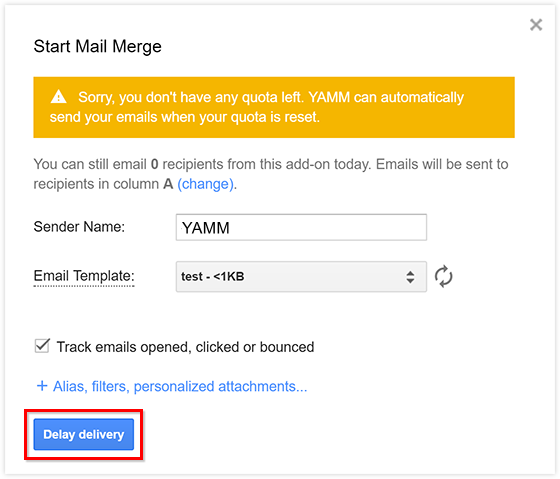 Click Delay delivery to activate this option. YAMM checks every hour if your quota has been renewed. When your quota has been renewed, YAMM continues your mail merge until it reaches the end of your spreadsheet.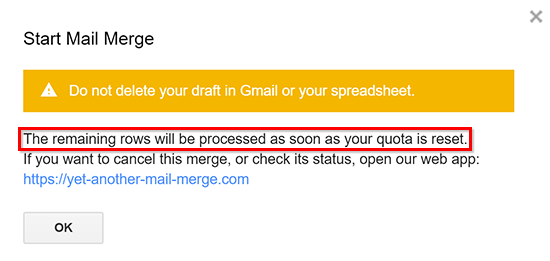 warning As notified in the warning displayed above, do not delete your draft in Gmail or your spreadsheet. Otherwise, YAMM will not be able to send your emails correctly.
done With this auto-scheduling, YAMM will relaunch your mail merge when your quota has reset (every 24 hours), you don't have to do it manually.