This article explains how to plan your emailing campaigns. You can schedule batch deliveries in advance by specifying the date and time to send your emails.
info This option is only available for paying users.
How to schedule a mail merge?
When you've prepared your YAMM campaign, click Delay delivery.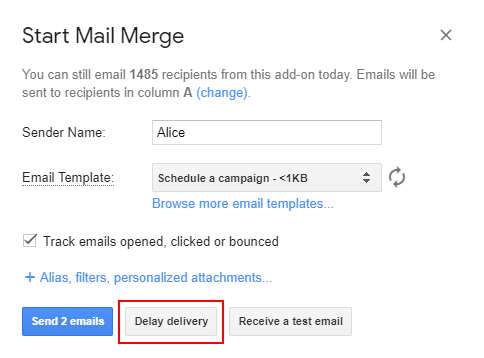 Specify the delivery date and time to schedule your campaign. Click Schedule merge to validate.
warningThe delivery time is an estimated time. YAMM can only check your spreadsheet every 30 minutes, so your emails might be sent out up to 30 minutes after the time you specified.
info You can schedule up to two weeks in advance.
You receive a notification that summarizes when your emails will be sent out, and a link to the web app to check your campaign status.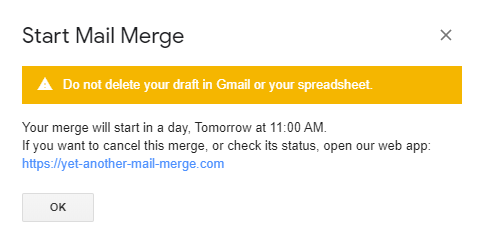 warning
It may take several days to complete your scheduled campaign!
See below
for more information.
In your Google Sheets, you'll see the SCHEDULED mention under the Merge status column. This reminds you that these rows will be processed later.

Leave some quota for other campaigns (optional)
If you schedule for a large number of emails (which exceeds your daily quota), you can also tell YAMM to leave some quota (for other emails).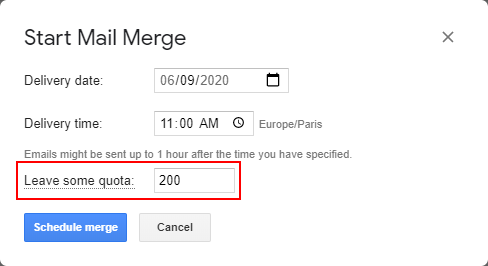 For example:
Your mailing list contains 5,000 addresses.
Your daily quota is 1,500 emails per 24 hours.
You enter Leave some quota: 200.
YAMM sends only 1,300 emails at the specified time. The remaining scheduled emails are sent when your quota renews (and again, YAMM sends 1,300 emails, until the scheduled mail merge is completed).
Cancel your scheduled campaign
Click the button below to access your dashboard from the web app, and click CANCEL CAMPAIGN.

Open your spreadsheet again and delete the whole Merge status column. To do this, right-click in the appropriate column, then select Delete column.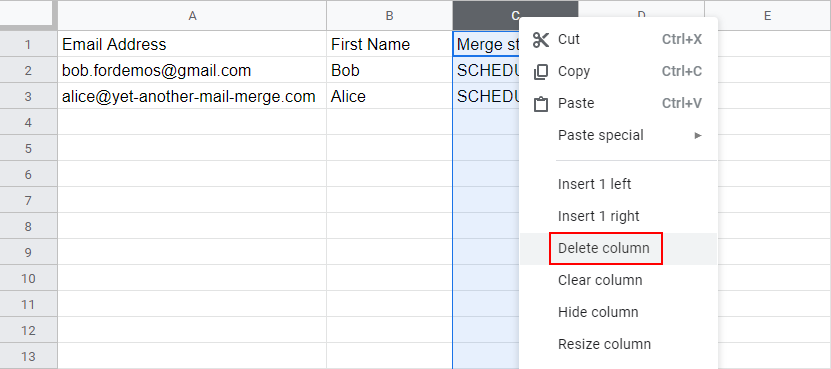 If some batches have already been sent, you can delete the rows containing the tag SCHEDULED after canceling the campaign from the web app.
warning Make sure you cancel your campaign from the web app. Deleting the SCHEDULED mentions from your spreadsheet doesn't cancel your scheduled mail merge!
How many campaigns can I schedule in advance?
You can only schedule one campaign at a time. If you try to schedule more than one, a warning is displayed.
If you click Schedule merge again, the previously scheduled merge is cancelled (even if you can still see SCHEDULED on the first one, under Merge status).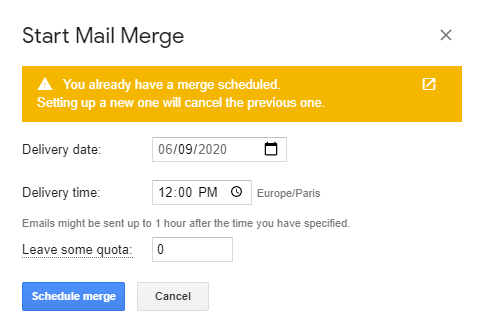 You have to wait until all the scheduled emails from your first scheduled mail merge have been sent out to be able to schedule another mail merge.
The scheduled mail merge wasn't sent out.
Several reasons can explain why your scheduled campaign wasn't sent out at the specified time:
You have deleted either your draft in Gmail or your spreadsheet. In this case, YAMM can't deliver your scheduled emails. You can modify your draft as long as you do it before the specified time, and YAMM will send the latest version, but don't delete it! There is a warning in the YAMM interface.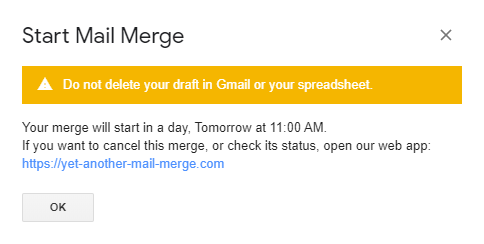 The delivery time is an estimated time. YAMM can only check your spreadsheet every hour, so your emails might be sent out up to 1 hour after the time you specified.
A scheduled mail merge is also counted against your quota, so it can take even more time for your emails to be delivered if you don't have enough quota. To avoid any mistakes regarding your quota calculations, you can't schedule if you don't have enough quota, even if you are trying to schedule for more than 24 hours later when your quota renews.
You have scheduled your campaign with multiple accounts. In this case, if account 1 has already sent the first batch, YAMM then sends the other batches from other accounts before re-sending from account 1. Learn more about this option: Schedule a mail merge from multiple accounts