Yamm has three methods to target and segment your contact list: with filters from Google Sheets; by hiding rows; and by adding 0 (zero) in the Merge status column of your spreadsheet.
Method 1: Send your email only to filtered rows
info Use Google Sheets filters for a big mailing list and target a specific group of people!
Add filters in your spreadsheet: click in cell A1, then select the Filter button from your Google Sheets toolbar.

You should see the filters (little arrows) on your headers.

The following example shows that we want to send an email only to people who have replied in the past.


After applying the filter, YAMM notifies you that Only the filtered rows will be processed.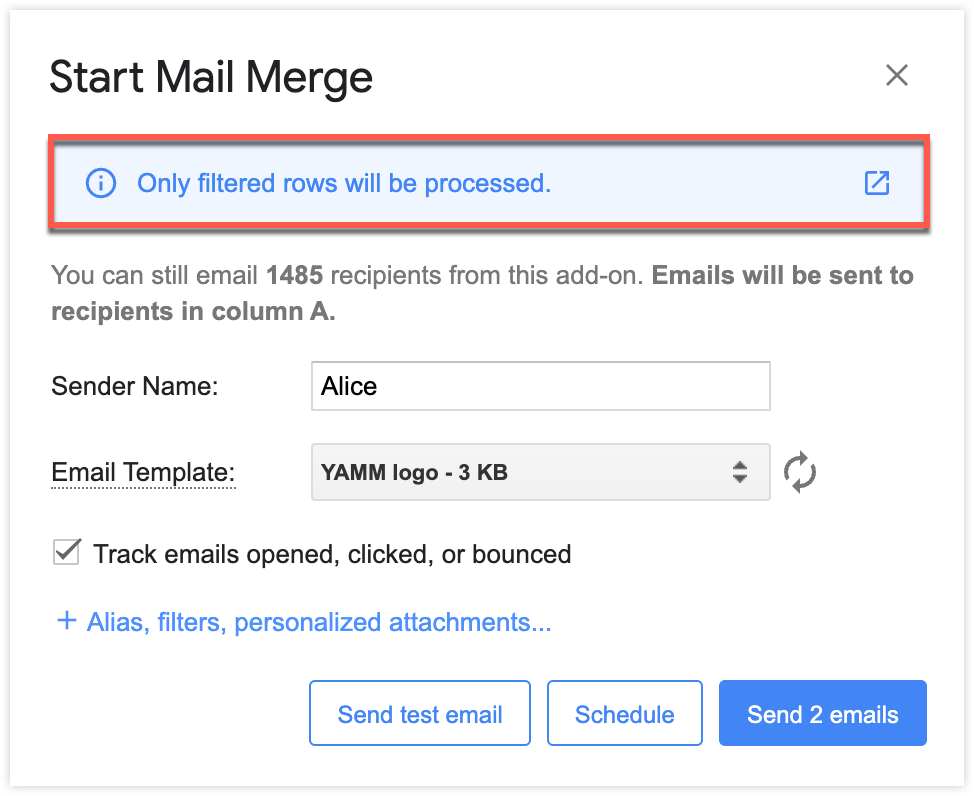 When you go back to your spreadsheet and remove the filters, you will see the tag EMAIL_SENT only on previously filtered rows (2 and 4 in our example), which indicates that YAMM has correctly skipped the other recipients.

not_interested
This option doesn't work with filtered views. Many people can create different filtered views, and we're not able to detect which one is active. So make sure you use Google Sheets filters.

Method 2: Hide some rows to skip these recipients
info Very convenient to use, hiding rows is suitable for smaller mailing lists.
If you want to send your emails to specific rows, you can hide some rows from your spreadsheet, and YAMM will automatically skip them and will send your campaign only to visible rows.


Method 3: Add 0 (zero) to skip the rows and send your email to the other recipients
info This method is useful for big mailing lists, without filtering on specific criteria.
If it doesn't exist yet, add a column named Merge status in your sheet and add a 0 (zero) for all the rows that should be skipped. This option is useful if you don't want to send your mail merge to your whole mailing list.

In the image above, an email will be sent to rows 2 and 4 (where the cells are empty under Merge status), but not to rows 3 and 5. Any rows with the tags EMAIL_SENT, EMAIL_OPENED, EMAIL_CLICKED or UNSUBSCRIBED already applied will also be skipped. Learn more: Resend your mail merge to the rest of your list on the same sheet.
As with the Google Sheets filters, you'll see a notification if we find rows that should be skipped.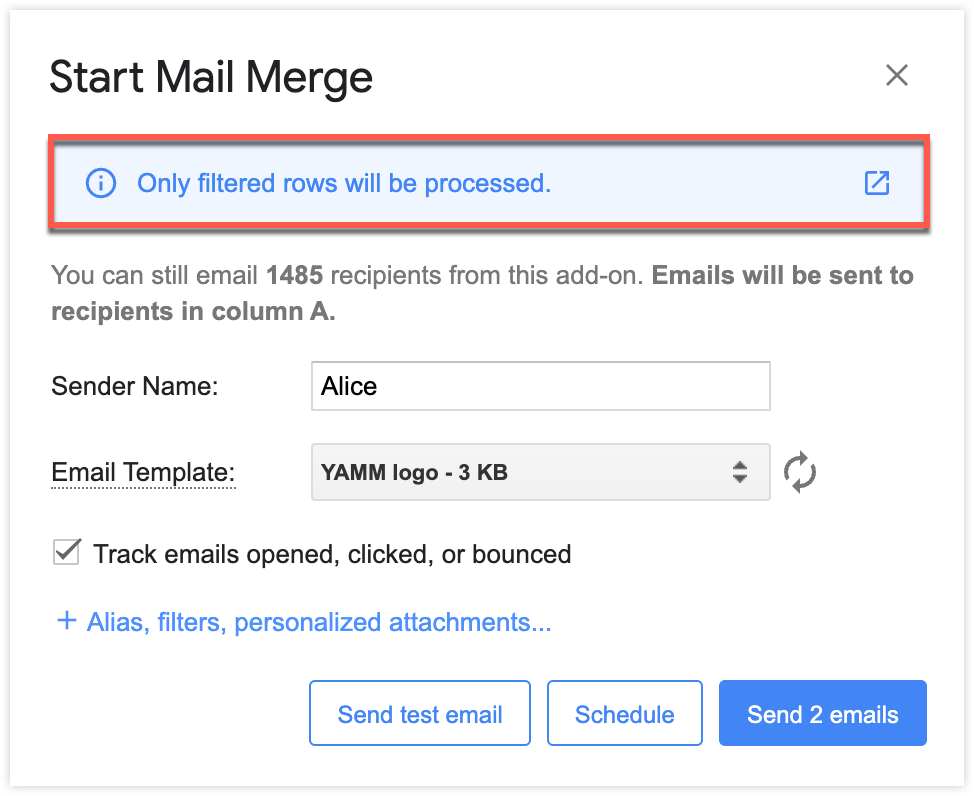 info This method can also be used to send your campaign to the remaining recipients from your spreadsheet without sending duplicates to those who already received your email. For this, delete the 0 (zero) in the Merge status column, and start your mail merge as usual. But don't delete the other tags (EMAIL_SENT, EMAIL_OPENED etc.)!