Learn how to import your contacts from Salesforce CRM into Google Sheets to send a mail merge with Gmail from your spreadsheet.
info This article is addressed to all Salesforce users. If you don't have a Salesforce account, note that Salesforce offers a 14-days free trial.
Method 1: Use G-Connector for Salesforce add-on
1. Install G Connector for Salesforce
Search for 'G Connector for Salesforce' on your Google Sheets add-on store, or click the button below to install the add-on from the Chrome Web Store:
When you will click on 'Install', a spreadsheet will open with a pop-up. Click 'Continue':
Select your Google account, then click 'Allow' to accept authorizations:
2. Connect your Salesforce account with G-Connector
Form your spreadsheet, go to Add-ons > G-Connector for Salesforce > Login to Production:
A new pop-up will open. Click 'Login' then 'Allow' access:
Once done, a confirmation message will open in a new tab. You can close it:
3. Import contacts from Salesforce
Go back to your spreadsheet, then click Add-ons > G-Connector for Salesforce to see the menu of available functions.
We will choose 'Get Report(s)', as we already created some previously in our Salesforce account:
Select the report with the contact list you want to import, then click 'Get report(s)':
done That's it! You have imported your contacts from Salesforce into your Google Sheet. You are now ready to use YAMM to email your contact list!
Method 2: Import a .csv file in your spreadsheet
1. Log into Salesforce
Click the button below to login to Salesforce and access your dashboard:
2. Create a report with your contact list
Once logged, click 'Report' > 'New Report' at the top right corner of the page: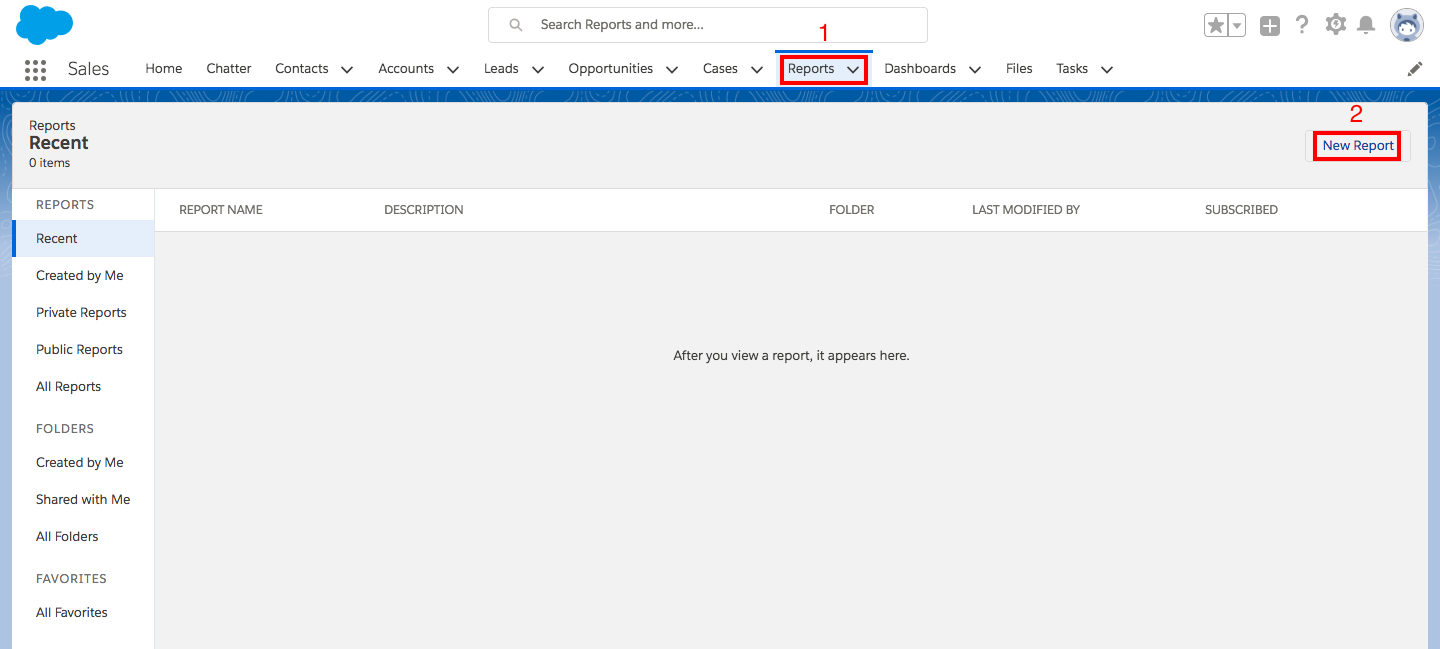 Under 'Select Report Type', click 'Accounts and Contacts' > 'Contacts and Accounts' > 'Create':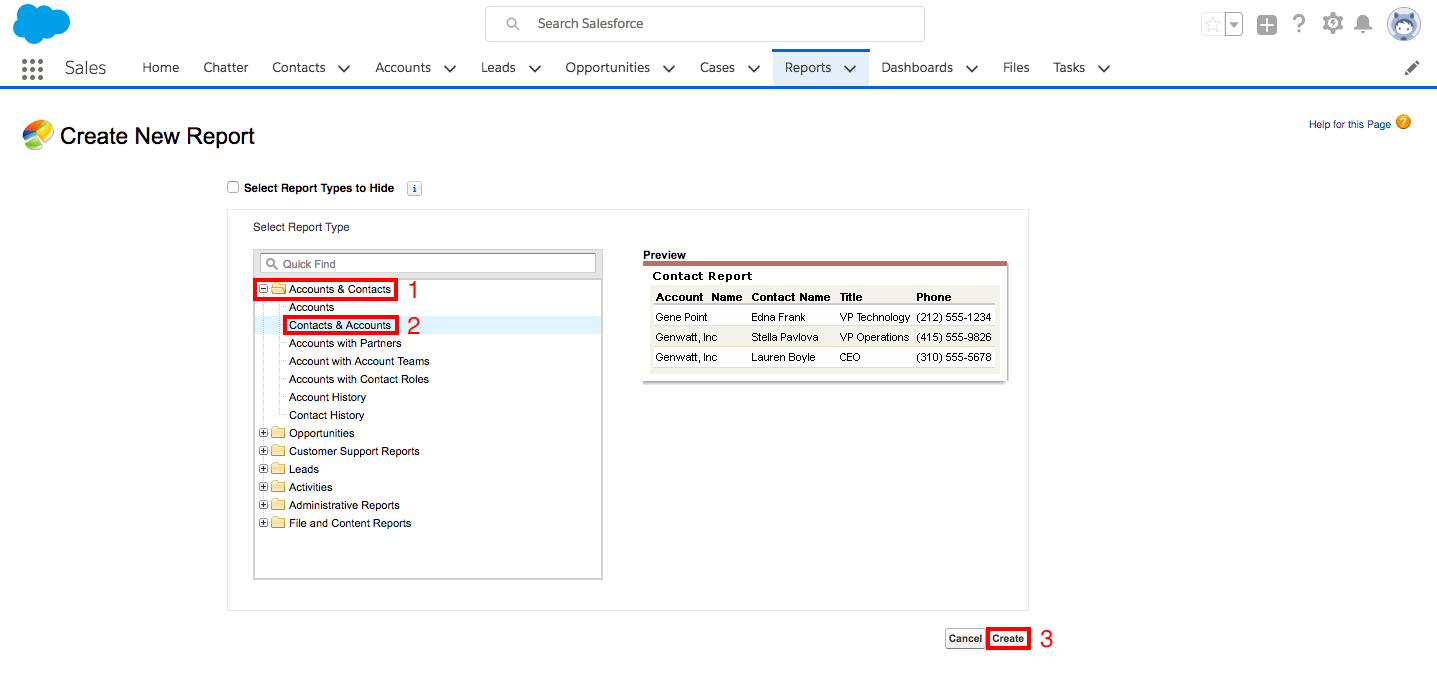 Clear the 'From' date field so there is no date restriction, and click 'Save':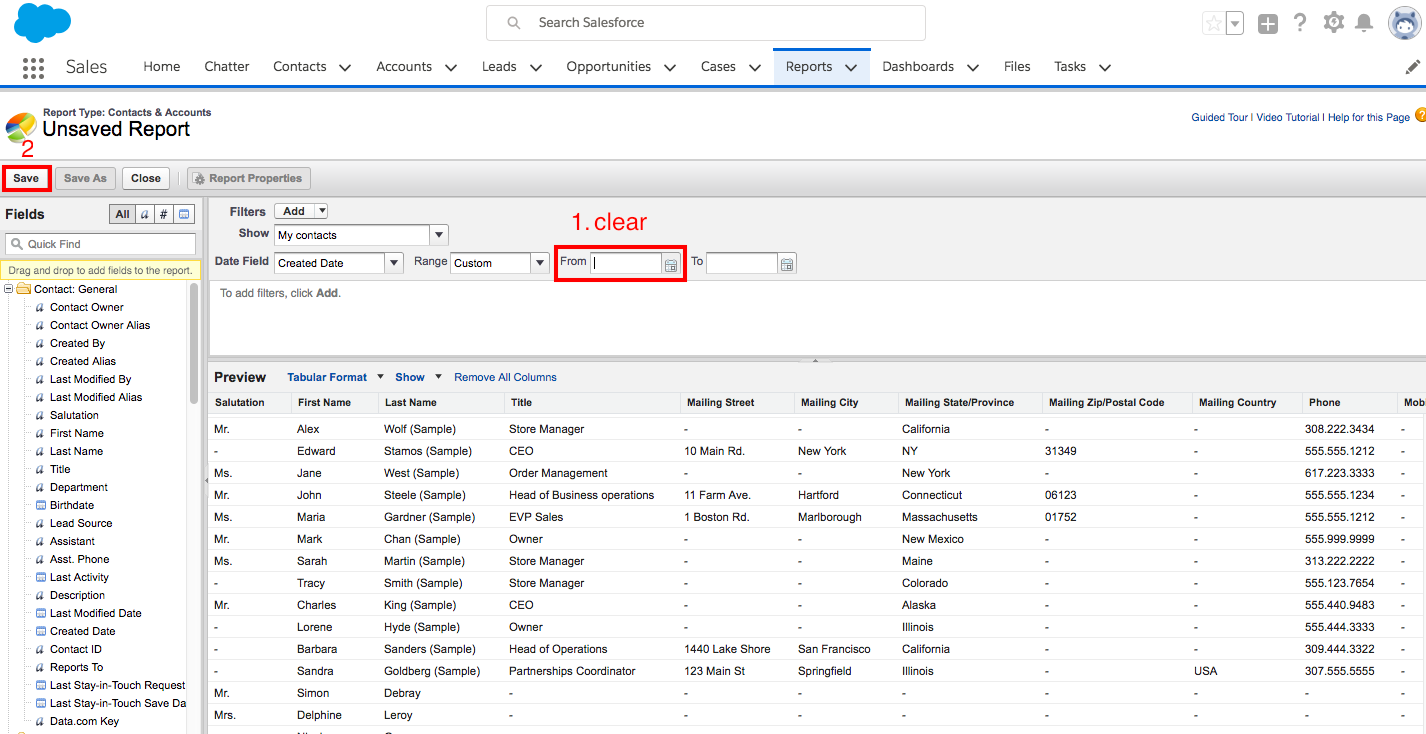 Then write the name of your report on the 'Save Report' pop-up and save it: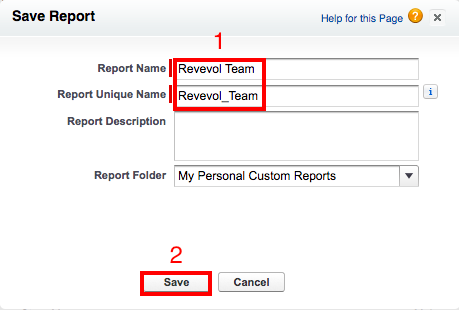 Once done, the 'Run Report' button appears. Click 'Run Report':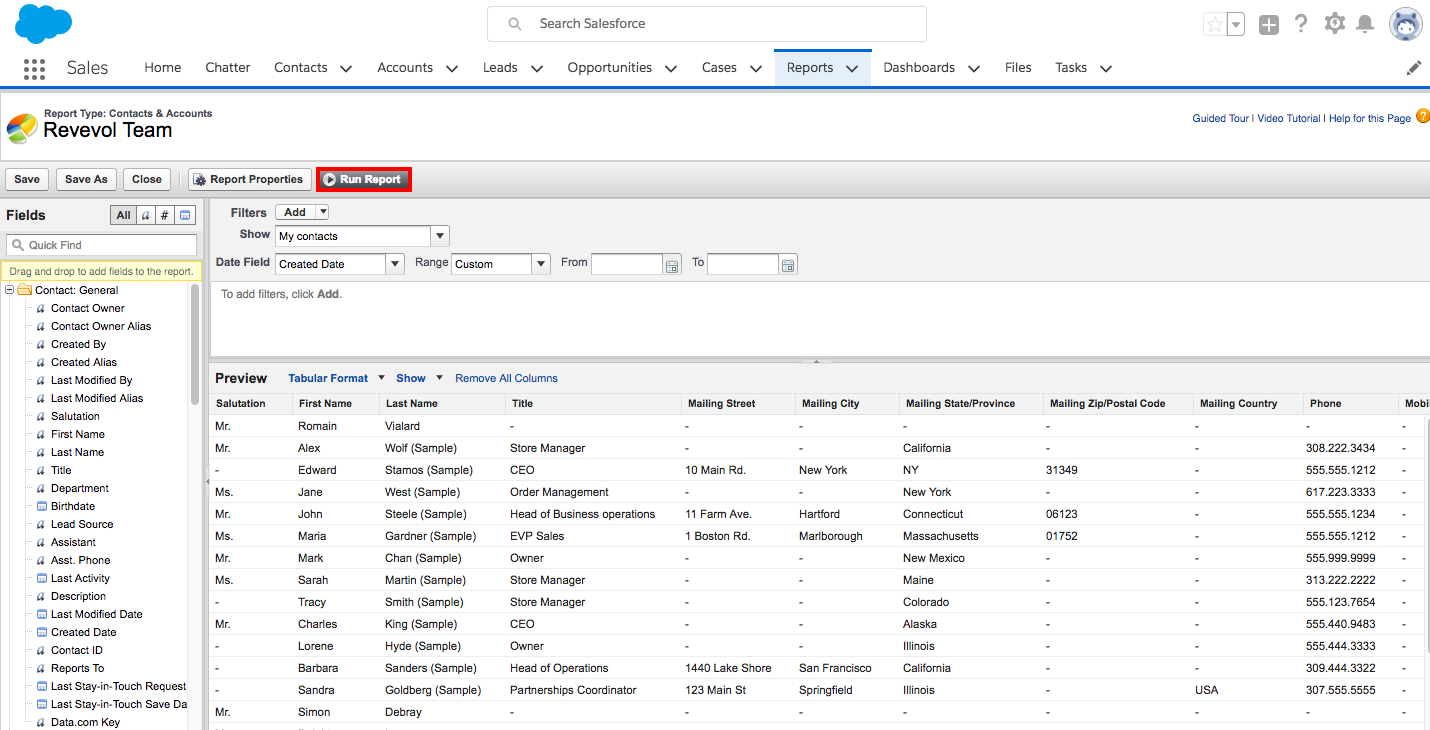 3. Export your report into a .csv file
Click on the arrow at the top right hand side. Then, click 'Export':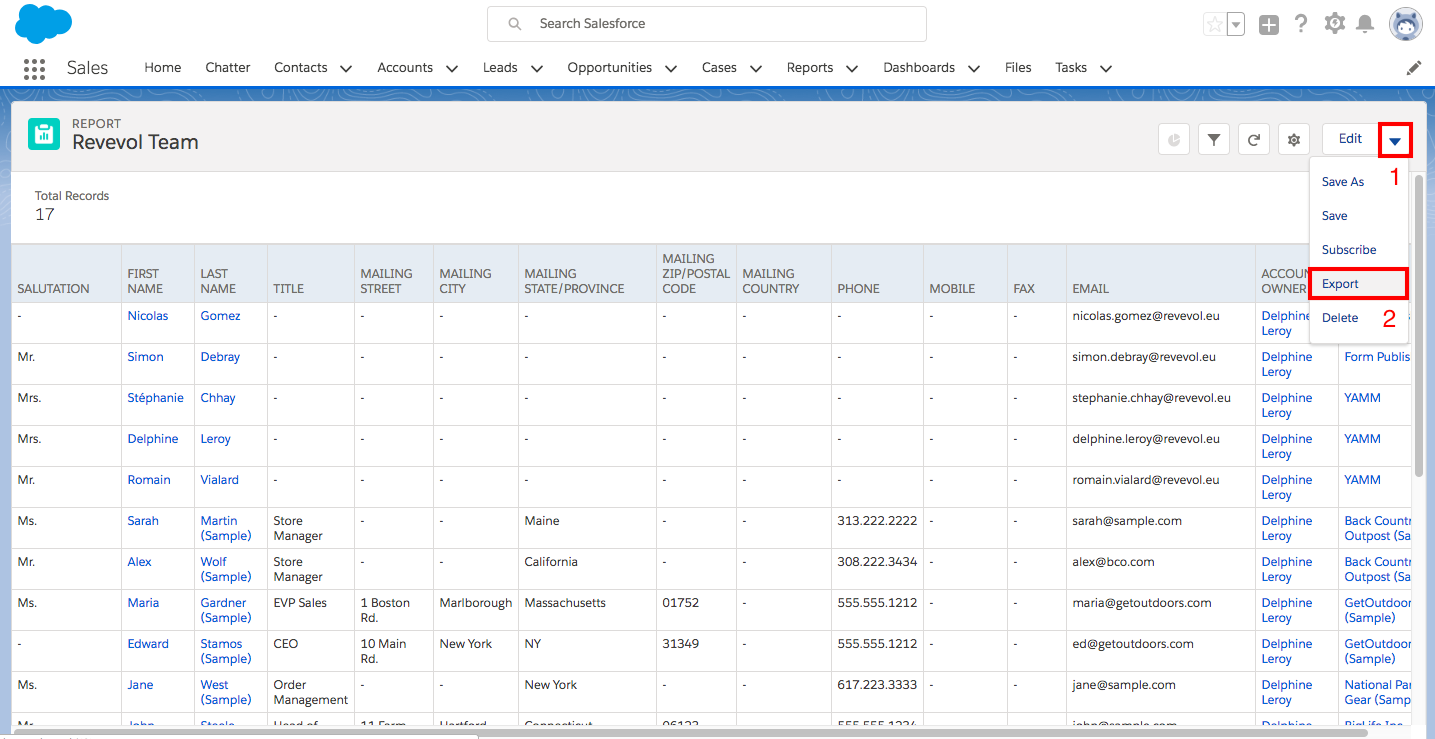 Under 'Format', choose 'Comma Delimited .csv'. Then, click 'Export' to save it in your computer: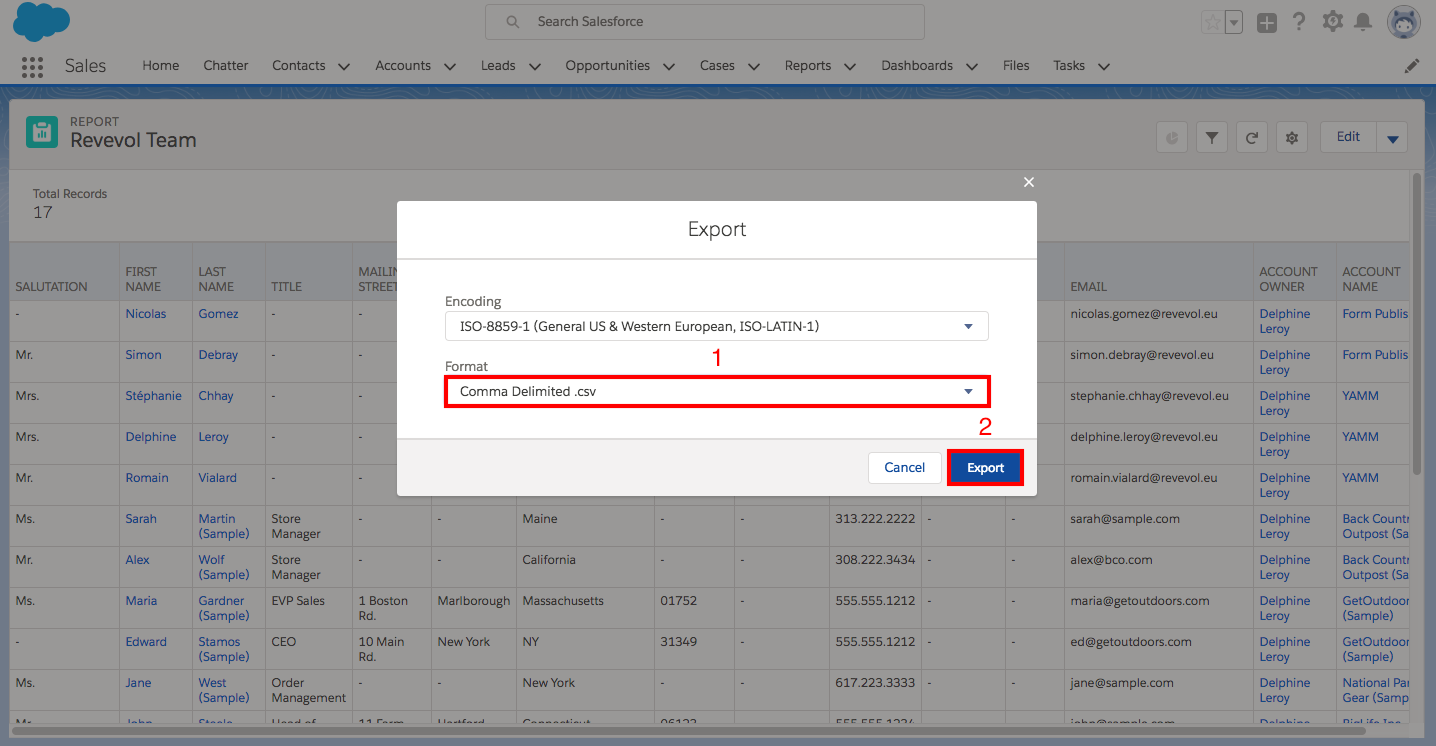 4. Import your .csv file into a Google Sheet
Open your spreadsheet, then click 'File' > 'Import':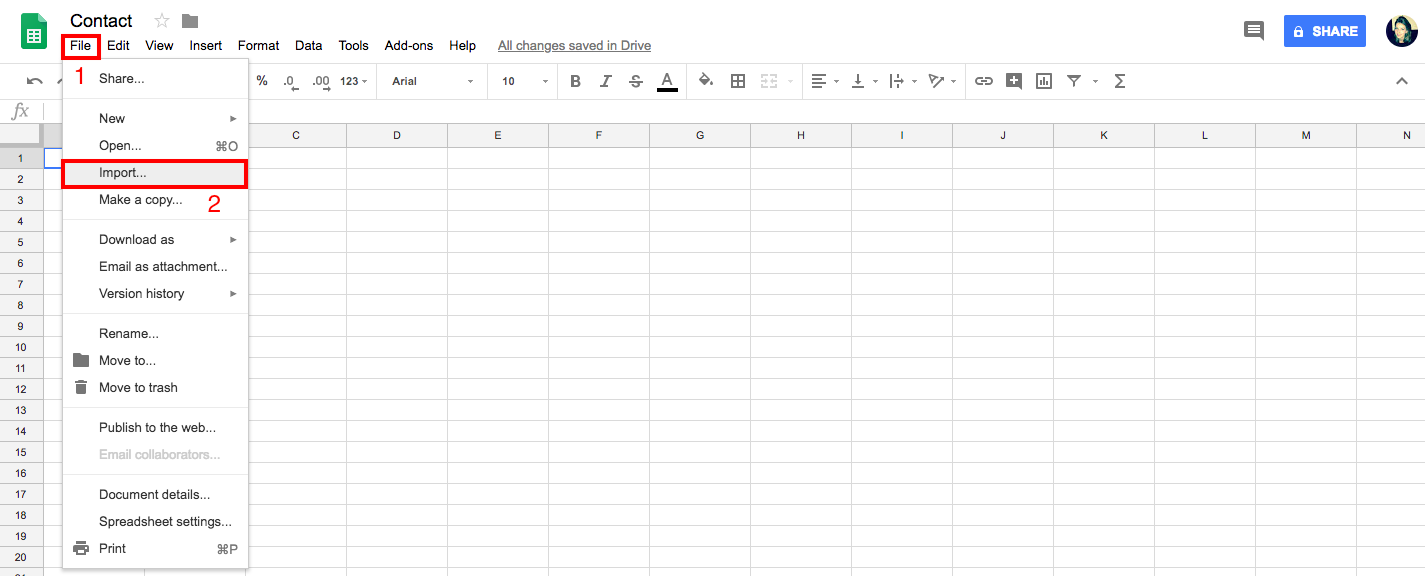 Click 'Upload' > 'Select the file from your computer'. Then select your CSV file: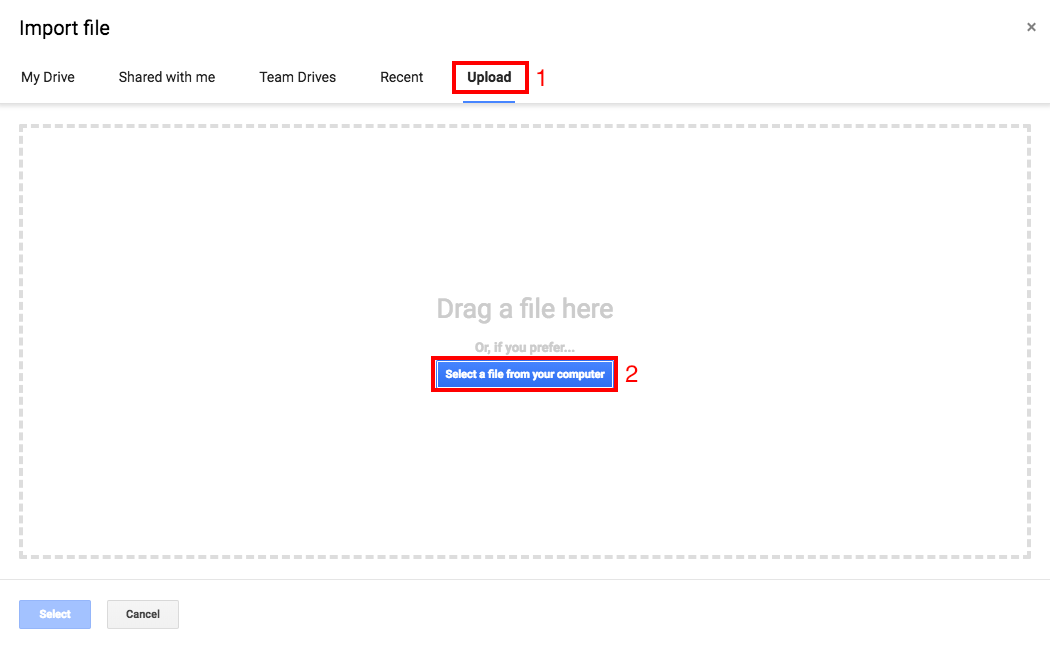 Complete the details on the following pop-up: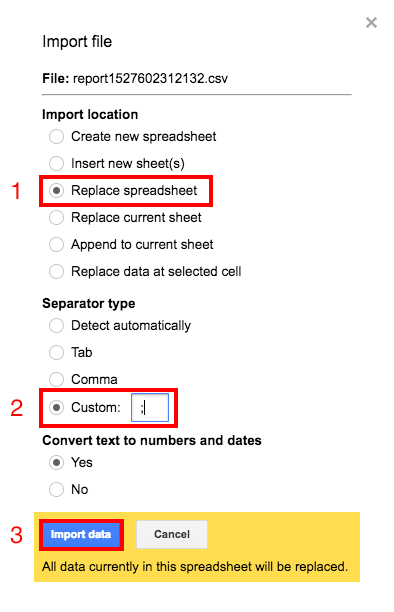 In our example:
We decided to select 'Replace spreadsheet' but you can choose another location.
Data from our .csv file is separated with semicolons, that's why we entered ';' as a separator. However you can also select 'Detect automatically' and check how your data is formatted in your Google Sheets.
We selected left 'Yes' by default on 'Convert text numbers and dates'.
Finally, click 'Import data'.
done Your contact list is imported from Salesforce to your spreadsheet. You are now able to send your emails with YAMM!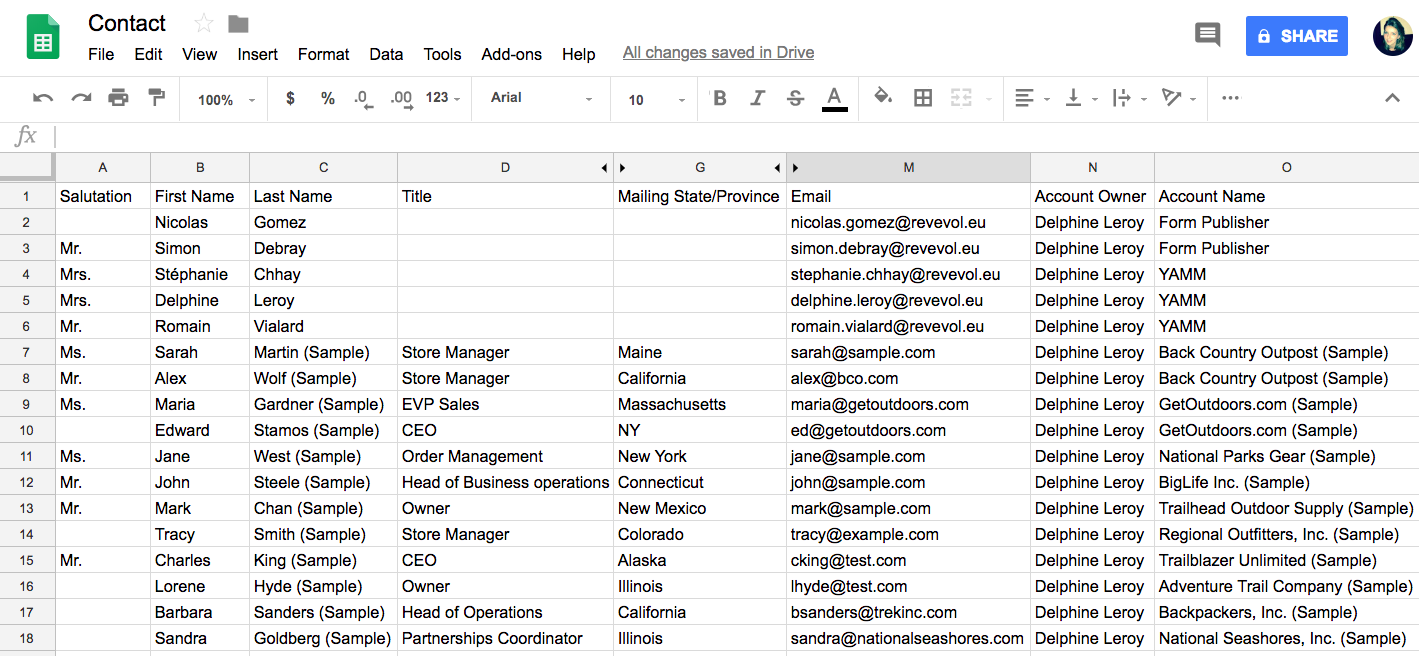 Method 3: Use our YAMM Salesforce connector
Open a Google Sheets, and import your recipient list from Yet Another Mail Merge menu:
Select 'Salesforce' to start importing your contacts from the CRM.
You will get a notification asking you to give two authorizations (one to Google, and one to Salesforce):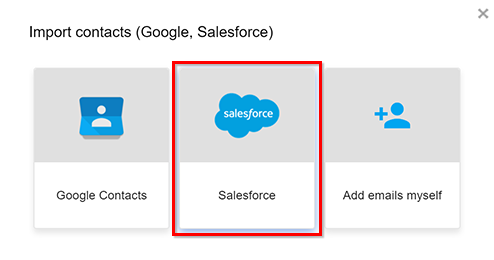 Follow the steps from YAMM interface. Go to Salesforce and connect to the website with your account. In the end you should be redirected to your Google Sheets.
The following pop-up which confirms that your contacts are being imported: