When you purchase a license for Yet Another Mail Merge, a recurring payment is automatically set on your customer profile, through PayPal. This article will show you how to cancel this auto-renew.
info Every time you purchase for another account, or for the same account again next year, the automatic recurring payment will be set again on your customer profile. If you don't want to be automatically charged, you will need to do the following steps as often as you buy a paid plan.
I have purchased an Individual plan
30 and 10 days before your license renews, you will automatically receive two notifications by email, with the following subject lines:
Your premium plan will renew in 30 days
Your premium plan will renew in 10 days
info If you don't see them in your inbox, please check your spam folder / promotion tab too!
From those emails, simply click 'Cancel my subscription':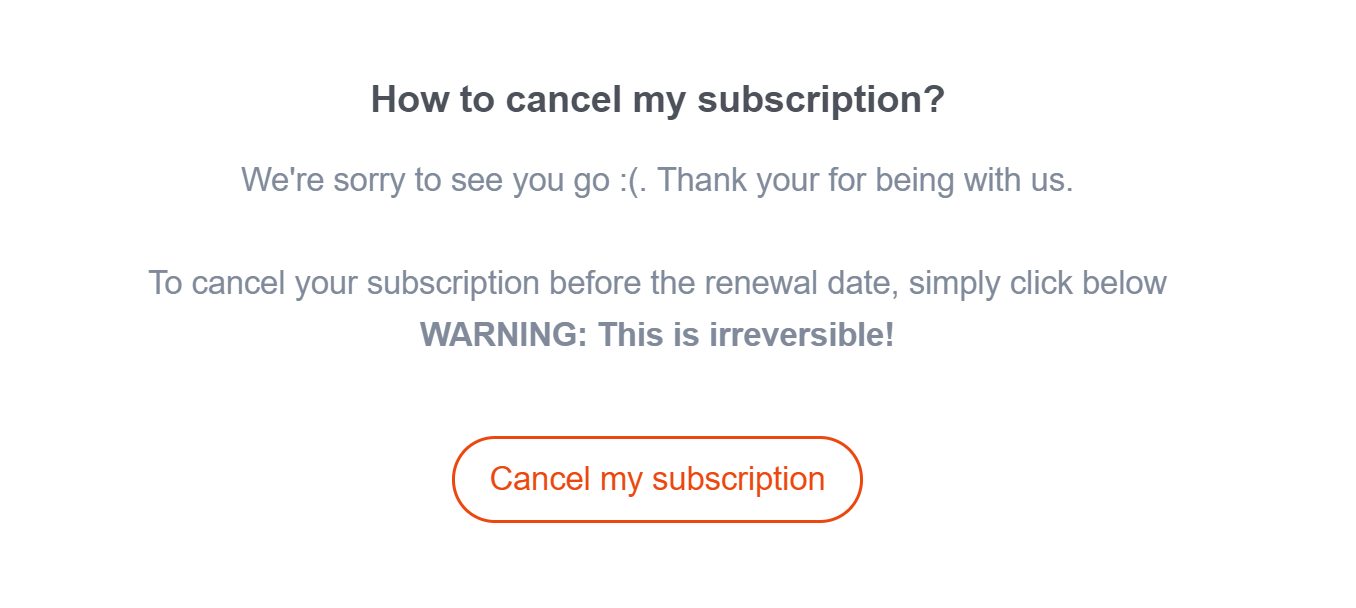 warning
This action is irreversible!
If you clicked by accident, you'll need to purchase a new plan through our
pricing page
.
I have purchased an Enterprise plan
Under an Enterprise (domain-wide) license, you can cancel the recurring payment only if you have purchased with a PayPal account. 
To cancel the automatic billing, please follow these steps:
Log in to your PayPal account
Click Profile near the top of the page
Click Payment preferences
Click Update next to 'My preapproved payments'
Select our merchant name 'Awesome Gapps, Inc'
Click Cancel, Cancel automatic billing or Cancel subscription and follow the instructions
info
 If you don't have a PayPal account or if you want to cancel your recurring payment before receiving the notifications, simply contact us at
support@yet-another-mail-merge.com
and attach the invoice to your email.