When you try to run YAMM on your Google Sheets, YAMM freezes and keeps spinning indefinitely, or nothing appears in the pop-up (it is blank / empty) when you are trying to send your mail merge. Please read this article to know what to do.
Why does YAMM load indefinitely?
Several reasons may cause this issue:
You are using some browser extensions that can block scripts. Please disable them on your Google Sheets.
You are logged in with multiple accounts in the same browser session. Please make sure to correctly login in separate browser session.
Your organization network restricted some domains. Please ask your G Suite admins to whitelist the following domains: googleapis.com, cloudflare.com and firebase.com.
If you still have issues, please try our solutions below.
Solution 1: Try YAMM on another browser
Please switch to another web browser. For example, if you are using Google Chrome, switch to Firefox etc.
Solution 2: Try YAMM in incognito mode
If it doesn't help, please try YAMM in incognito mode:
First, open a new incognito window from your Chrome browser
Then, login to Drive/Gmail with your account
Finally, run a test mail merge on this incognito window
Why this can help? With the incognito mode, you don't have any parameters like: History, cache, temporary files stored, extensions installed, and you are sure that you are not logged in with any others accounts. All these parameters can block the access to YAMM.
info If YAMM works after trying in incognito mode, then the issue is from user side and you'll need to double check all the parameters one by one (clear your cache, check your extensions etc.).
Solution 3: Send us a screenshot of your browser console
If trying on another browser or in incognito mode didn't help, without any error message, it's hard for us to see what the issue is.
Please follow those steps to help us investigate:
1. Restart YAMM on your Google sheet
Go to Add-ons > Yet Another Mail Merge > Start Mail Merge.
2. Open your browser console
When the add-on freezes, go to your Chrome Menu > More Tools > Developer Tools (or Right click > Inspect):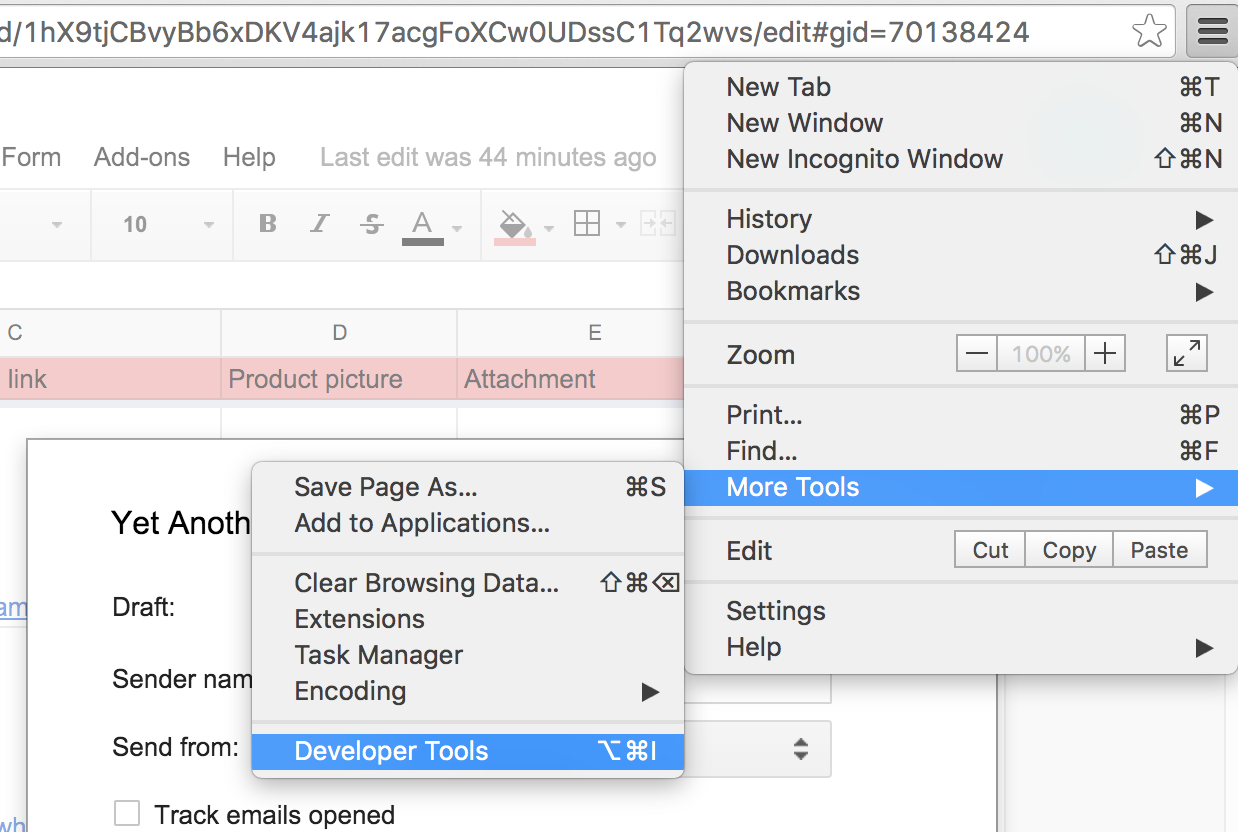 3. Click the Javascript Console tab for errors
If there is an error, you should see some red messages in this console:

warning Please make sure you clicked on the 'Console' tab (not Elements, or any other).