YAMM is excellent to send emails upon form submissions as your email templates are standard drafts in Gmail (meaning that you can easily use an alias, add cc, bcc, attachments, inline images, etc.). Follow the instructions below to configure your form submission notifications.
Link a form to your spreadsheet
First, be sure that a Google Form is linked to your spreadsheet. If it's not the case, please check Google documentation to know how to do so.

info  Form notifications are set up at spreadsheet level rather than individual sheet level. This means the notification feature isn't available for spreadsheets with multiple forms.
Open the form configuration menu in Yet Another Mail Merge
Once you have correctly linked a Google Form to your spreadsheet, you should see a new menu Configure form submission notifications in Yet Another Mail Merge.
If it doesn't appear, but you can see the Form menu, then close and reopen your spreadsheet to load the add-on menu properly.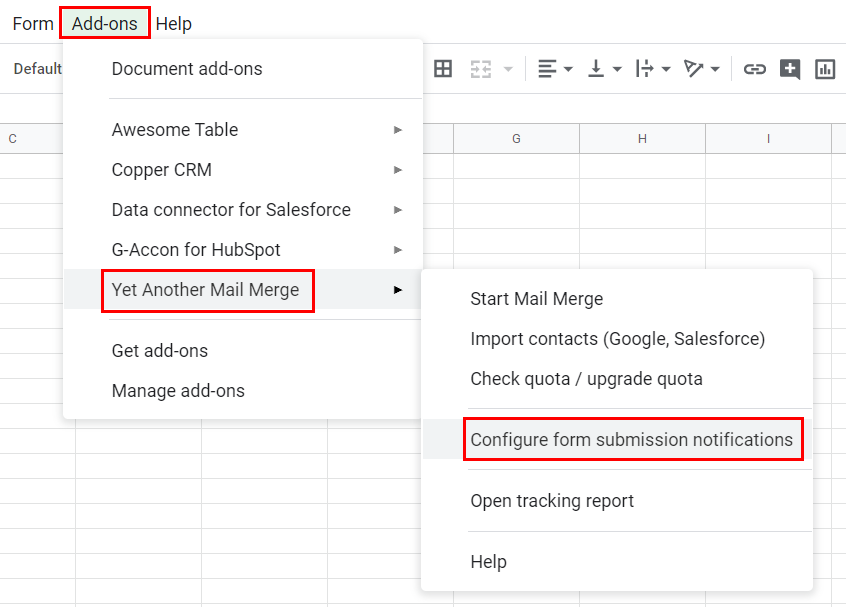 Choose the options that you want
Option 1: Notify one or more addresses of all responses
The email will be sent to the addresses you put in the recipient's field of the Gmail draft.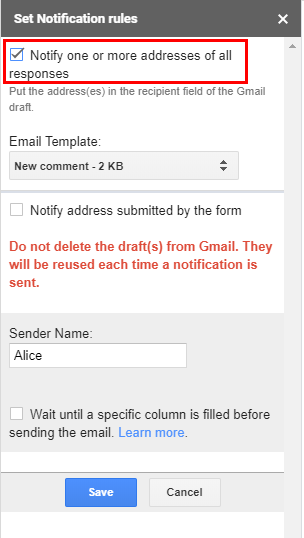 Option 2: Notify address submitted by the form
The emails will be sent to the addresses submitted within the form. In that case, leave the recipients field empty in the Gmail draft, and select the recipient's email addresses column from your responses spreadsheet.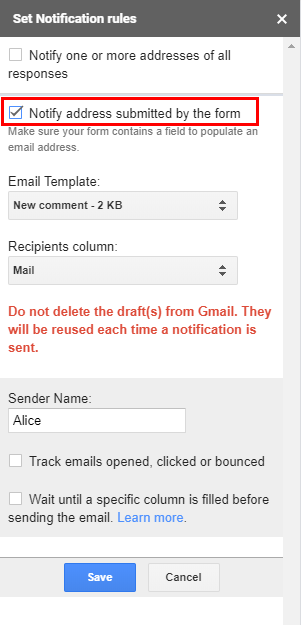 Or choose both options
You can also notify one or more recipients of all responses (in that case, put the email addresses directly in your Gmail draft), and at the same time, notify the email addresses submitted by the form.
Select both options from the Set Notification rules sidebar and click Save.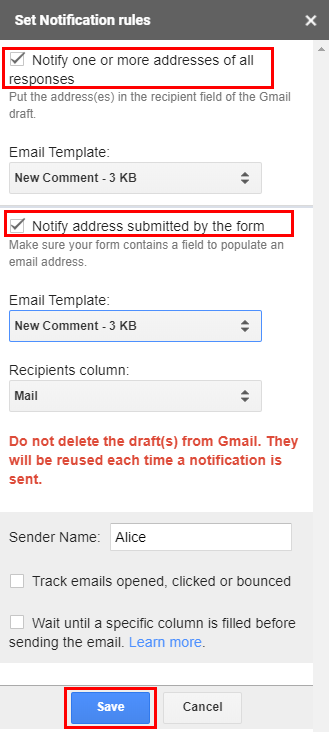 Besides, you can also use our tracking tool as usual, and add everything you need in your Gmail draft: cc/bcc recipients, images, attachments, etc.
How to deactivate this option?
If you want to disable these notifications on form submit, open the notification rules sidebar again (Add-ons > Yet Another Mail Merge > Configure form submission notifications), uncheck both options and click Save.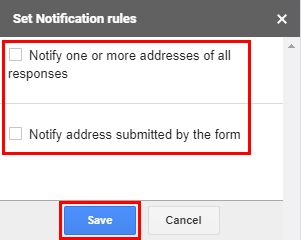 YAMM will stop sending emails after each form submission.