To send personalized attachments to each recipient, upload your files to Google Drive and add their URLs in a column of your spreadsheet. YAMM gets the files from your Drive and sends them as attachments to your email.
info This article is for users who want to add personalized attachments to their emails. If you're going to send the same attachment to all your recipients, add it directly in your Gmail draft.
Method 1: Automatically list all file URLs in your Google spreadsheet
info This method is useful if you have many attachments. You need to have one variable from your Google spreadsheet (like an ID) that exactly matches one element of your file titles.
1.1. Associate an ID to each recipient in your spreadsheet
In our example, we send personalized payslips to each employee, attributed to a unique registration number.
List the ID related to each recipient in a new column of your spreadsheet.

1.2. Choose a naming convention for your file titles that include the ID
Our naming convention for the payslip/file titles is PAYSLIP-JUN2020-ID-REGISTRATION_ID, where REGISTRATION_ID exactly matches the ID in our spreadsheet.
For example, Bob's ID is 0001, so his payslip is named PAYSLIP-JUN2020-ID-0001.
Ensure you include the same ID in the payslip title for each recipient, and upload the files in a Drive folder.

You are now ready to use YAMM to send your personalized attachments.
1.3. Select the folder containing your attachments from YAMM
In your Google spreadsheet, select Add-ons > Yet Another Mail Merge > Start Mail Merge.
Click + Alias, filters, personalized attachments, then click Import from Drive folder.
Select the Drive folder that contains your payslips.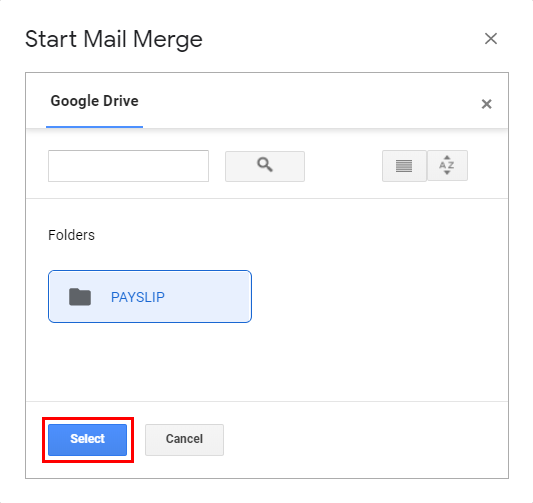 warning
Can't select your Drive folder and get the message 'No documents'?
Read this article
to solve your issue.
Choose the column to check for matches and click Import files.
Once done, YAMM automatically lists your payslip URLs next to the right recipients. You'll also notice that we have detected the right column that contains the attachments.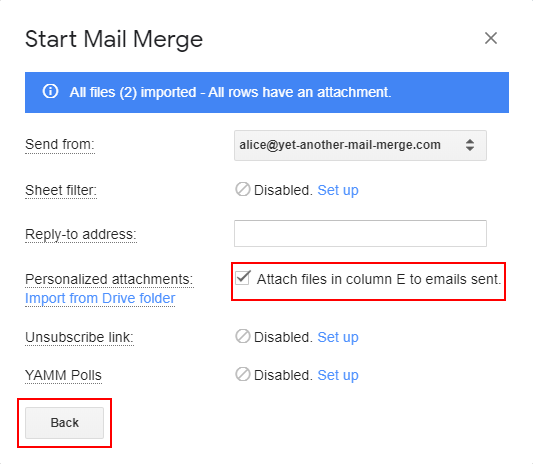 You can now send your mail merge with the personalized attachments to your contact list. Click Back then click Send emails.
done In no time at all, your recipients automatically receive their correct payslip, avoiding any mistakes!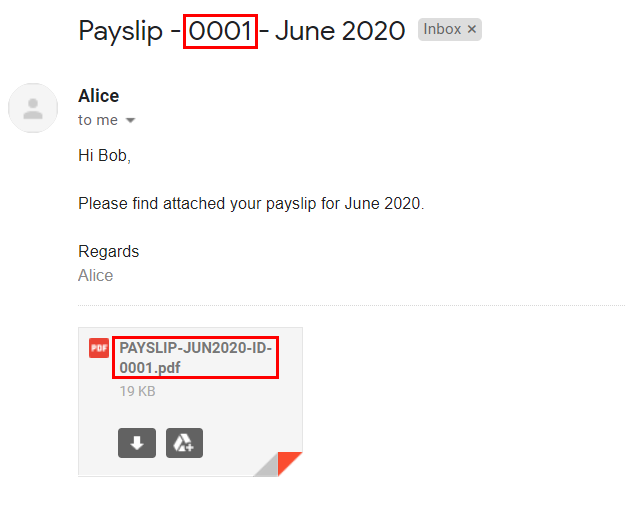 Method 2: List your file URLs one by one in your spreadsheet
info Follow this method if you don't have any matching elements between your Google spreadsheet columns and your file titles or if you don't have many personalized attachments to send.
2.1. Upload your files to Google Drive

2.2. Paste the URL of each file in a column named 'Attachment' in your spreadsheet
Right-click a file, select Share and copy the link.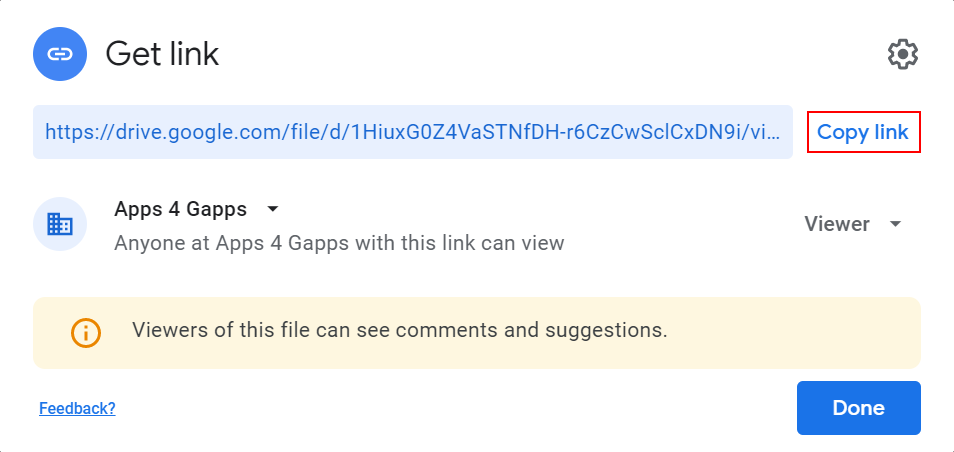 warning The column header that contains your attachments should be written precisely as Attachment, as YAMM is case sensitive. If there are typos, YAMM won't be able to detect this column.
3.3. Activate the option in YAMM to send personalized attachments
When starting a mail merge, click + Alias, filters, personalized attachments.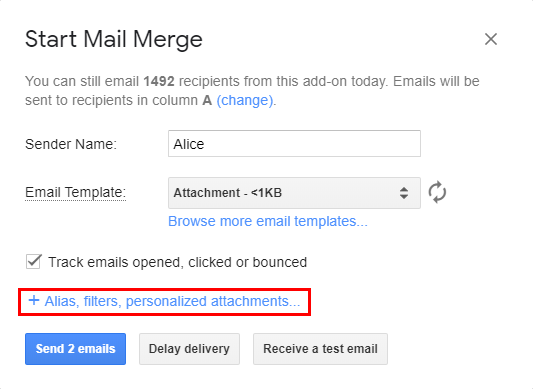 Select the checkbox Attach files in column xx to emails sent.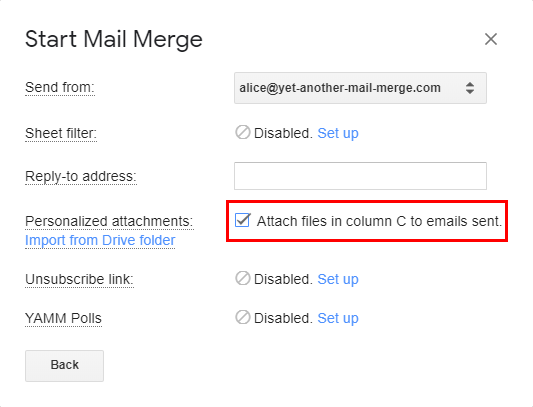 How to add multiple attachments for one recipient?
Simply put multiple links in the same cell of your spreadsheet, separated by commas.

How many emails with attachments can I send each day?
Plan
Account Type
Email quota with attachments
Free Plan
Google Workspace, Gmail

50 / 24 hours

Paid Plan
Google Workspace
1,500 / 24 hours
Gmail
100 / 24 hours