Your daily quota depends on your Google account (G Suite or Gmail) and which Yet Another Mail Merge plan you're using. This article provides information about how many emails you can send each day for each type of account and plan.
Email quota
Plan
Account Type
50 per 24 hours
Free Plan
G Suite, Gmail
1,500 per 24 hours
Paid Plan
G Suite*
400 per 24 hours
Gmail
*Only for purchased G Suite accounts (30$). Please read below for more details.
Free version
With the free version of Yet Another Mail Merge, you can send emails to up to 50 recipients every 24 hours.
If this daily quota is not enough for you, you can subscribe to one of our paid plans and get more quota, or use our referral program which is free, but limited in time.
Paid version
info As soon as your account is under a premium license, your bonus quotas are removed.
Gmail.com accounts
If you buy a YAMM license for a gmail.com account, your quota is 400 emails per 24 hours.
G Suite accounts and domains
warning Make sure you buy your YAMM license for a G Suite account with a G Suite email address. If you buy your YAMM license for a G Suite account with a Gmail address, you're limited to 400 emails per day and you can't send the 1500 emails per day as expected.
Google offers a free trial period which lasts 14 days. After this trial period, if you want to keep using YAMM with your G Suite account and increase your quota from 400 to 1500 emails per 24 hours you must pay Google 30$.
To send more emails, upgrade to a paid G Suite account.
For example, if you choose the $6 basic plan from Google, it means your G Suite account will be out of trial period after making 5 monthly payments. During these 5 months you will be limited to 400 emails from YAMM. This is because you haven't paid $30 to Google yet.
Indeed, Google says that 'those limits will be automatically increased when your domain is cumulatively billed for at least USD 30 (or the same amount in your currency). If you purchased your domain from Google, the amount required to increase your sending limits is USD 30 plus the cost of your domain'.
Your account becomes a fully functional G Suite account that can send 1,500 emails with YAMM only under these conditions.
Learn more: I bought the 1,500 emails plan BUT I'm limited to 400.
Can I get more quota with YAMM?
The sending limit from Google is different from the quota for YAMM. In general:
if your quota for Google is 500 emails per 24 hours, your quota for YAMM is 400 emails per 24 hours
if your quota for Google is 2,000 emails per 24 hours, your quota for YAMM is 1,500 emails per 24 hours
The quota for YAMM (which we decide) is always lower than the quota for Google (which we don't decide).
That's why we are technically not able to give you more quota for a single Google account (G Suite or Gmail). This also means that you will not get more quota if you buy two licenses for the same account. However, your second purchase will be added to the first one, which means that your subscription will be valid for two years instead of one.
Why can't I use all my quota?
In some specific cases, you can send fewer emails than your usual quota. This article outlines the factors that make your quota decrease faster: I don't have quota left / My quota didn't reset
How to check my remaining quota?
After sending a mail merge, a summary is displayed, indicating:
the total number of emails sent
the total number of recipients (if different, i.e. if you have multiple recipients per emails sent)
your remaining quota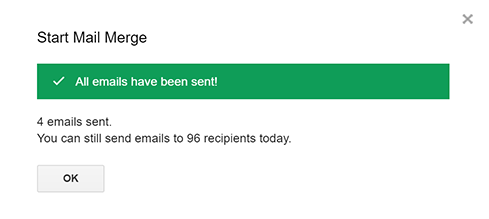 If you want to check your remaining quota, select Add-ons > Yet Another Mail Merge > Check quota / upgrade quota.