done Current status: No incident to report.
This page will be updated in case of service disruption or other incidents preventing customers to use the application as usual.
All past disruptions since November 13, 2017 are also listed here.
January 17, 2018: Service disruption on the Tracking Sidebar
A bug is affecting the tracking sidebar, which can display the following error 'Cannot read property "data" from undefined' instead of the number of emails sent, opened, clicked,...
Spreadsheets will be updated with the correct merge status on each row and users will continue to receive the tracking report even if they can't use the tracking sidebar properly.
A fix for this issue is currently being reviewed by Google.
Update: the fix is now live and the issue should be solved.
January 16, 2018: Service outage
The Firebase Realtime Database service provided by Google is facing an increased latency that started on 2018-1-16 2:40 PM GMT+1. As a result, there's was an outage on YAMM at that moment. It has been resolved as of 4 PM GMT+1. 
During the outage:
People could not send new campaigns
The tracking feature was not working on campaigns sent (meaning most new emails opened or clicked were not recorded)
It might also have prevented your recipients from opening links in your emails if you have enabled tracking
Here's the Firebase incident report:
https://status.firebase.google.com/incident/Realtime%20Database/18002
November 29, 2017: yet-another-mail-merge.com not accessible for some users
Due to DNS issues, our website was not accessible to some users from 2017-11-28 18:00 to 2017-11-27 10:00 GMT+2. People were still able to send email campaigns from the add-on but they could not access our website, mainly impacting people in the following ways:
November 27, 2017: Service outage
The Firebase Database service provided by Google was not available from 2017-11-27 21:12 to 2017-11-27 22:30 GMT+2. As a result, YAMM was also not available.
Here's the Firebase Database incident report for more information:
https://status.firebase.google.com/incident/Realtime%20Database/17094
This service outage also impacted our tracking feature twice:
from 2017-11-27 21:12 to 2017-11-27 22:30 GMT+2
from 2017-11-28 4:22 to 2017-11-28 7:15 GMT+2
During those timeframes all emails opened have not been tracked and all links in emails tracked by YAMM were redirecting users to an 'over quota' page.
November 26, 2017: Delay for scheduled campaigns
Campaigns scheduled to start between 2017-11-26 6PM GMT+2 and 2017-11-27 10AM GMT+2 were delayed due to a bug preventing them to start. 
November 15, 2017: All users are being asked to re-authorize YAMM
A few days ago, the Google Apps Script team launched a new authorization scope:
'Display and run third-party web content in prompts and sidebars inside Google applications'
We aren't accessing any new data from your Google account but the fact that YAMM is displayed inside Google Sheets now requires an extra authorization. Because of this new authorization, you are asked to re-authorize all other permissions you had previously given.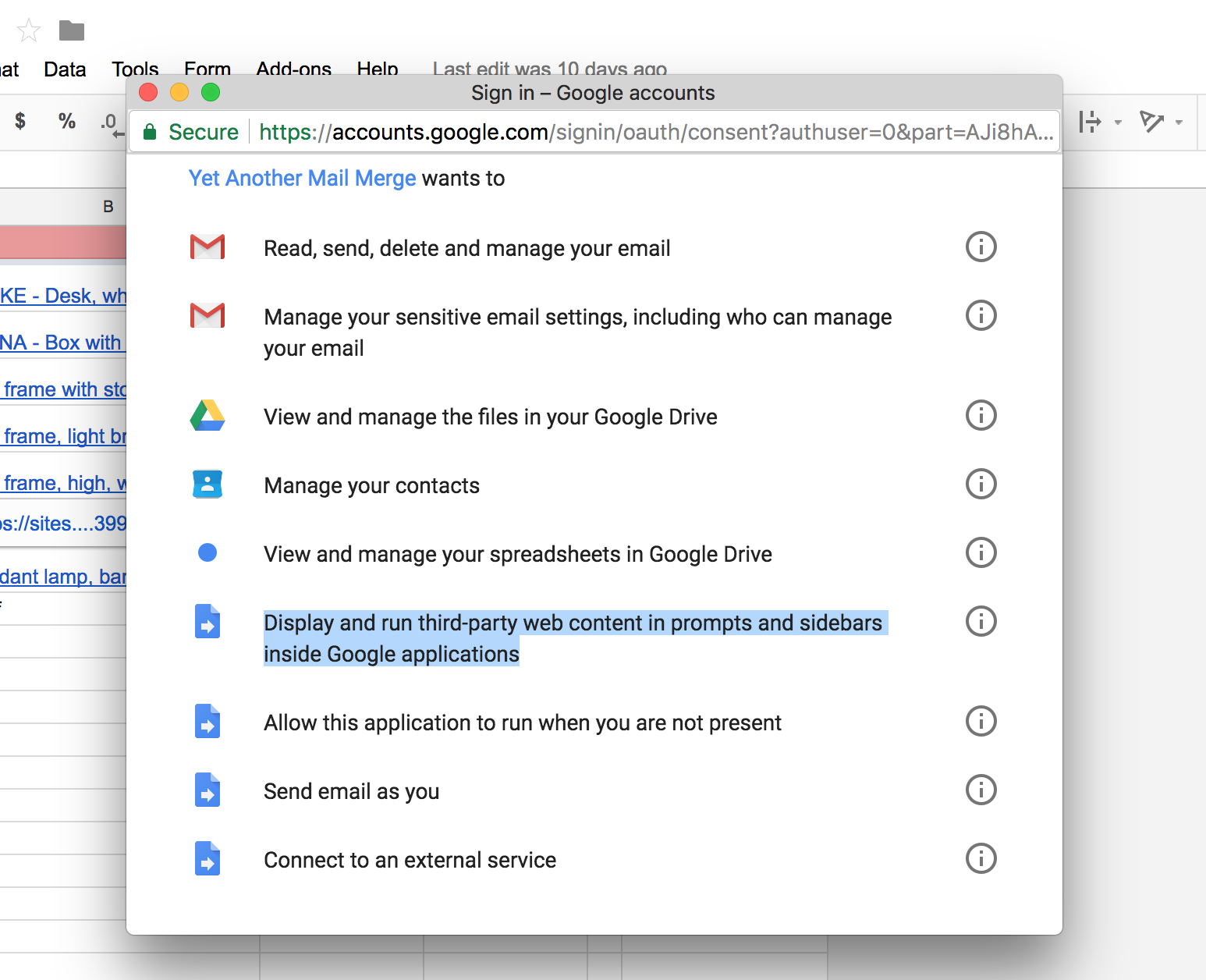 If you want to learn more about why we need the permissions we are asking and how we ensure your data are protected, please check our Terms of Use and Privacy Policy.