This page will be updated in case of service disruption or other incidents preventing customers to use the application as usual. All past disruptions since November 13, 2017 are also listed here.
lock Current status: No incident to report.
December 17, 2019: New users can't install YAMM add-on
The first time you install YAMM, Google shows an authorization dialog requesting access to certain services in your Google account.
End of last year, Google announced new policies for third-party access to Google Workspace APIs. These policies provide for stronger controls to give apps users the confidence they need to keep their data safe.
While YAMM's permissions to access your data are currently being reviewed by Google in light of these new policies, new users are for the moment unable to install YAMM add-on from the Google Workspace Marketplace.
If you cannot sign-in because YAMM has been uninstalled, please understand that we are not able to help you get the add-on installed again on your account.
The issue is now solved.
April 2, 2019: Service disruption for YAMM tracking feature
We faced issues with our tracking feature on April 2, 2019 between 6pm and 9pm (CEST). Opened emails were not tracked anymore, and users who clicked on the link from your email were receiving an 'Over Quota' error message:

This issue has been fixed and all links from your past campaigns are working again, with tracking.
April 3, 2018: Premium service disruption
We recently updated Yet Another Mail Merge to use the latest version of Firebase.
Due to this update, some paying customers experienced a decrease in their quota, which dropped back to the free version of the add-on (50 emails / day).
This issue seems to be linked to cookies blocking. While waiting for our fix to be deployed, if you're facing this issue, please check your browser settings and make sure to always allow cookies:


March 9, 2018: Service disruption - scheduled merge
Due to an outage on Firebase Functions, scheduled merges can experience delays.
February 27, 2018 to March 7, 2018: Service disruption - merge upon form submission
If merge upon form submission was set up with the 2 options activated (Notify one or more addresses of all responses & Notify address submitted by the form), one of the email was not sent to the right recipient.
November 2017 to March 2018: Service degradation when connected with multiple Google accounts
A bug is currently impacting all add-ons when you are connected with multiple Google accounts within the same web browser. We have applied several workarounds to alleviate this issue.
January 17, 2018: Service disruption on the Tracking Sidebar
A bug is affecting the tracking sidebar, which can display the following error 'Cannot read property "data" from undefined' instead of the number of emails sent, opened, clicked,...
Spreadsheets will be updated with the correct merge status on each row and users will continue to receive the tracking report even if they can't use the tracking sidebar properly.
A fix for this issue is currently being reviewed by Google.
Update: the fix is now live and the issue should be solved.
January 16, 2018: Service outage
The Firebase Realtime Database service provided by Google is facing an increased latency that started on 2018-1-16 2:40 PM GMT+1. As a result, there's was an outage on YAMM at that moment. It has been resolved as of 4 PM GMT+1.
During the outage:
People could not send new campaigns
The tracking feature was not working on campaigns sent (meaning most new emails opened or clicked were not recorded)
It might also have prevented your recipients from opening links in your emails if you have enabled tracking
Here's the Firebase incident report:
https://status.firebase.google.com/incident/Realtime%20Database/18002
November 29, 2017: yet-another-mail-merge.com not accessible for some users
Due to DNS issues, our website was not accessible to some users from 2017-11-28 18:00 to 2017-11-27 10:00 GMT+2. People were still able to send email campaigns from the add-on but they could not access our website, mainly impacting people in the following ways:
November 27, 2017: Service outage
The Firebase Database service provided by Google was not available from 2017-11-27 21:12 to 2017-11-27 22:30 GMT+2. As a result, YAMM was also not available.
Here's the Firebase Database incident report for more information:
https://status.firebase.google.com/incident/Realtime%20Database/17094
This service outage also impacted our tracking feature twice:
from 2017-11-27 21:12 to 2017-11-27 22:30 GMT+2
from 2017-11-28 4:22 to 2017-11-28 7:15 GMT+2
During those timeframes all emails opened have not been tracked and all links in emails tracked by YAMM were redirecting users to an 'over quota' page.
November 26, 2017: Delay for scheduled campaigns
Campaigns scheduled to start between 2017-11-26 6PM GMT+2 and 2017-11-27 10AM GMT+2 were delayed due to a bug preventing them to start.
November 15, 2017: All users are being asked to re-authorize YAMM
A few days ago, the Google Apps Script team launched a new authorization scope:
'Display and run third-party web content in prompts and sidebars inside Google applications'
We aren't accessing any new data from your Google account but the fact that YAMM is displayed inside Google Sheets now requires an extra authorization. Because of this new authorization, you are asked to re-authorize all other permissions you had previously given.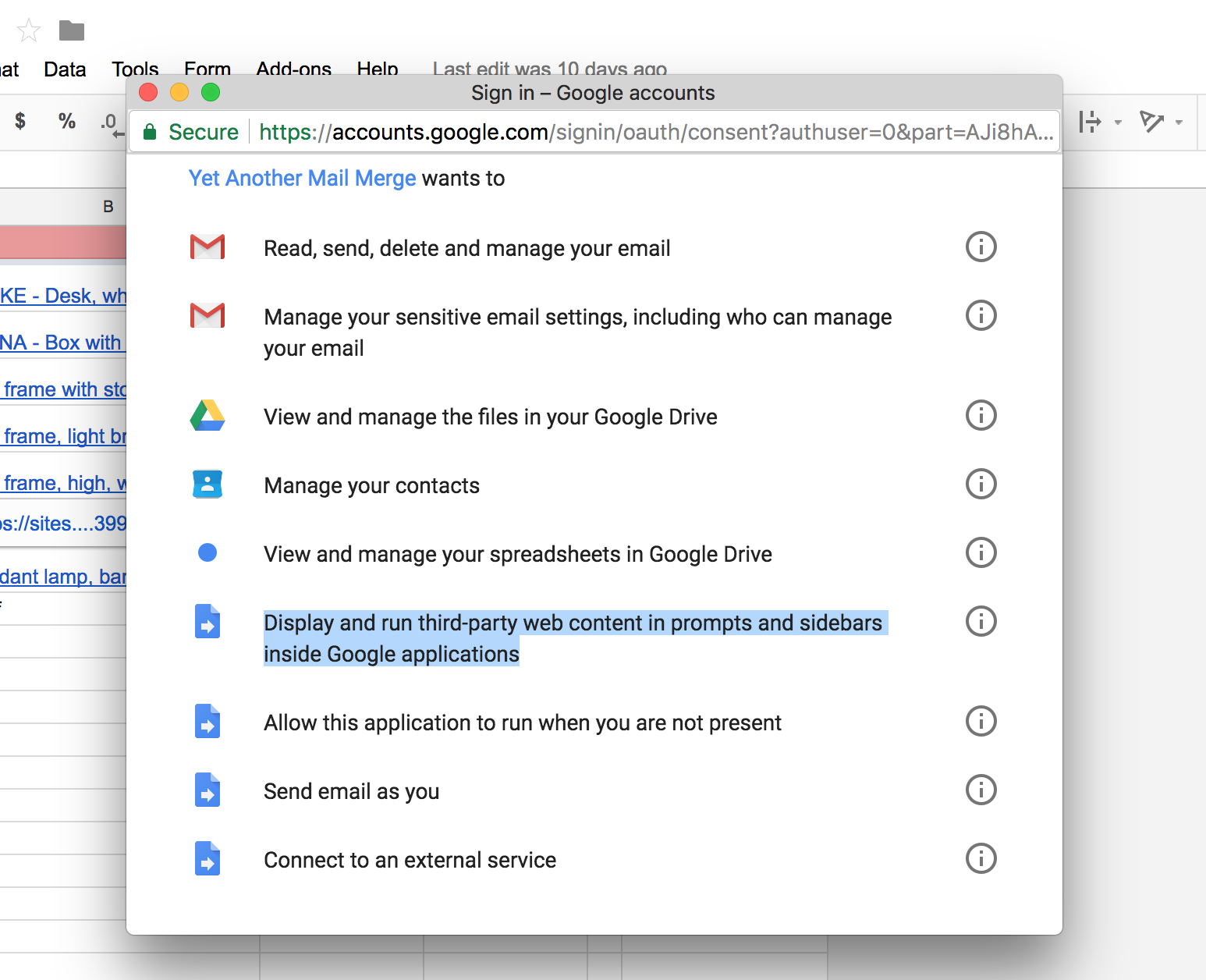 If you want to learn more about why we need the permissions we are asking and how we ensure your data are protected, please check our Terms of Use and Privacy Policy.