Note on importing contacts: If you decide to import your contacts from Google Contacts or Salesforce, YAMM will automatically list all your recipients in your spreadsheet. But if you want to add your contact list and other personalized information manually, here's the right way to do it.
1. Open a Google spreadsheet
You can open an existing spreadsheet or create a new one. We'll start from a new Google spreadsheet:
2. Add column headers to your spreadsheet
On row 1, type the name of each column (called 'headers') for each item of information you need for your campaign.
For example:
We want to add the first and last names of our subscribers, their functions, city, and email addresses. We'll write these headers as follows:

warning These headers must always be in the first row. We recommend freezing row 1 by dragging down the line (above row 1) to make sure you don't move it accidentally.

3. Add all information under each column
You can now fill your spreadsheet with all the information you need, row by row.

4. Start your mail merge
When your spreadsheet is ready, you can start your mail merge (after creating a simple draft email template in Gmail for your mail merge).
Select Add-ons > Yet Another Mail Merge > Start Mail Merge. If the header of your contact list is called exactly 'Email Address', YAMM automatically detects your contact column.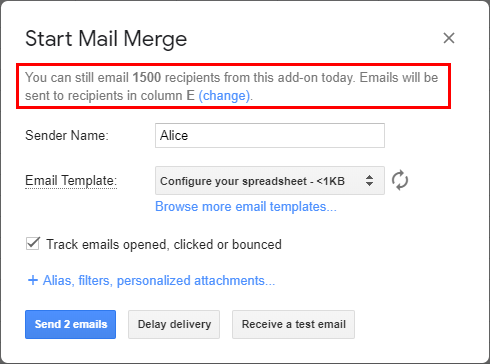 However, you can name the recipient column header as you want. For example, if you called it 'Accounts', select the recipient column in YAMM.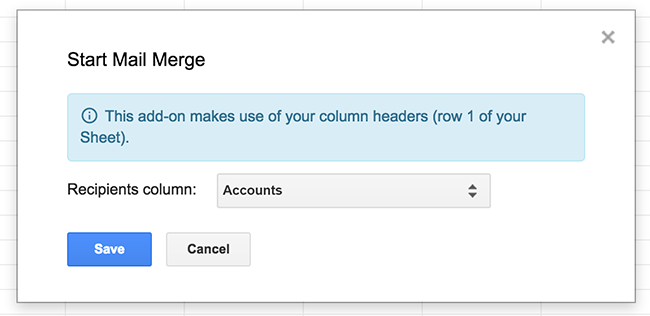 Click Save and you are now ready to send your first campaign!