Your emailing campaign suddenly stopped because your quota has been temporarily reduced by Google. Read this article to learn more about this issue.
Even if YAMM tells you that you have enough quota to send your whole campaign (Add-ons > Yet Another Mail Merge > Check quota / upgrade quota), your campaign stopped and you received the following pop-up:
warning Email quota temporarily reduced by Google.
What did Google temporarily reduce my quota?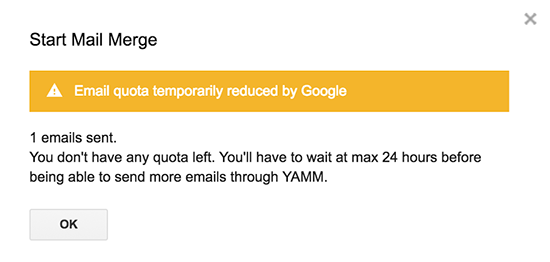 1. You exceeded your daily quota and reached a limit for sending mail
If you receive the following bounce message.
warning You have reached a limit for sending mail. Your message was not sent.

This means that you exceeded your sending limit with your Google account (500 for Gmail accounts, 2,000 for G Suite accounts).
Read the section below to understand this issue in details: 'Why did you reach email sending limits?'
not_interested If YAMM detects too many bounces due to sending limit in your Gmail inbox, we will automatically stop your campaign to avoid Google to block your account.
If it's too late and Google has already blocked your account, please read this article: 'Google blocked my account. Why and what should I do?'
YAMM will also let you know in your Google Sheet with the 'EMAIL_NOT_SENT' status:

2. You exceeded the limit of 10 emails being marked as spam
Google will temporarily reduce your quota if:
> 10 recipients in your target list marked your email as spam
> 10 emails fell into your recipients' spam folder (without even reaching your recipients' inbox)
Here are a few tips to avoid spam issues:
Remove all links from your email
Remove any embedded logo
Try without our pre-designed template
not_interested If you spam people, Google will reduce your quota and block your email delivery.
Why did you reach email sending limits?
Common reasons
Explanations
To know more...
You exceeded your daily sending limit

You are sending emails via POP/IMAP
You are logged with multiple Google accounts on the same browser
You are using other mail merge tools

Read this article: 'I don't have quota left / My quota didn't reset'

Sending too many unwanted emails that bounced back
A bounce refers to a situation where your email is rejected by your recipient's email server.
Check the following article for more details: 'What are bounces? How to track bounce rate?'
Sending emails to non-valid email addresses
This is a typical sign of a stale database, which triggers spam issues. Please verify your contact list and make sure your database is up-to-date before sending your campaign.

For more information, check these articles:

A recipient is getting too many emails from you

If someone receives too many emails from you at a very high rate, this will also alert anti-spam filters. You will need to contact the person another way.
What can I do when my quota is reduced? Can YAMM reset it for me?
not_interested
Unfortunately there's nothing we can do to reset your quota. We can help you understand and detect some reasons of this issue if you
send us a request
, but please don't ask us to reset your quota as we're technically not able to do that. In this case, please contact directly
Google support
.
Because we don't have our own API and reuse Gmail API, the quota renewal is 100% handled by Google. And if Google decides to reduce your quota for some reasons, then it is sadly too late for your current campaign.
We advise to double check all the different reasons one by one, and keep in mind that most of the time it's because of spam issues or because you exceeded your Google account sending limit (by using other mail merge tools, synchronizing your account to other devices etc.).
You can still possibly try those two options: