Your emailing campaign suddenly stopped because your quota has been temporarily reduced by Google. Read this article to learn more about this issue.
Before running a YAMM campaign, you ensured that you had enough quota to send your mail merge to all your recipients.
However, you noticed that your campaign stopped, and received the following pop-up.
warning Email quota temporarily reduced by Google.
What does this warning message mean?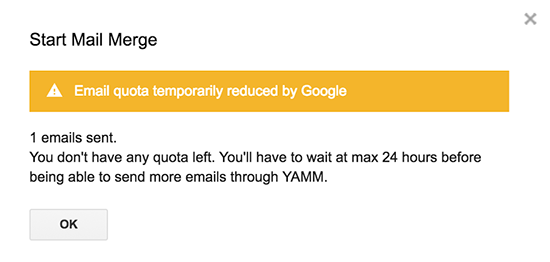 You received this warning message because YAMM detected too many bounces due to sending limit in your Gmail inbox:

This means that you exceeded your sending limit with your Google account. If you keep sending your campaign to your mailing list while receiving these bounces, Google will disable your account
info To avoid Google to block your account, YAMM automatically stops your campaign when we detect too many bounces in your inbox.
If you are facing one of the situations below:
There are some 'EMAIL_NOT_SENT' on your spreadsheet and you don't know why
Your Google account has been blocked by Google
Please read the following topic: Message bounced / not due to sending limit / Google blocked my account
Why did you reach email sending limits?
Common reasons
Explanations
To know more...
You exceeded your daily sending limit

You are sending emails via POP/IMAP
You are logged with multiple Google accounts on the same browser
You are using other mail merge tools

Read this article: 'I don't have quota left / My quota didn't reset'

Sending too many unwanted emails that bounced back
A bounce refers to a situation where your email is rejected by your recipient's email server.
Check the following article for more details: 'What are bounces? How to track bounce rate?'
Sending emails to non-valid email addresses
This is a typical sign of a stale database, which triggers spam issues. Please verify your contact list and make sure your database is up-to-date before sending your campaign.

For more information, check these articles:

A recipient is getting too many emails from you

If someone receives too many emails from you at a very high rate, this will also alert anti-spam filters. You will need to contact the person another way.
What are the recommended solutions?
To make sure that your recipients receive your email, you will need to resend it to these people. Check that you have enough quota within a 24 hours timeframe to avoid any blocked account, and also in your Gmail 'Sent' folder to make sure that you haven't already sent your emails to avoid sending duplicates.