With the test email option, YAMM lets you preview your email template before sending it to all your recipients. This article details all information you'll need about this.
How to send a test email to yourself?
Once you have created your template in Gmail and prepared your mailing list on your spreadsheet, go to 'Add-ons > Yet Another Mail Merge > Start mail merge':
After selecting your template, click 'Receive a test email':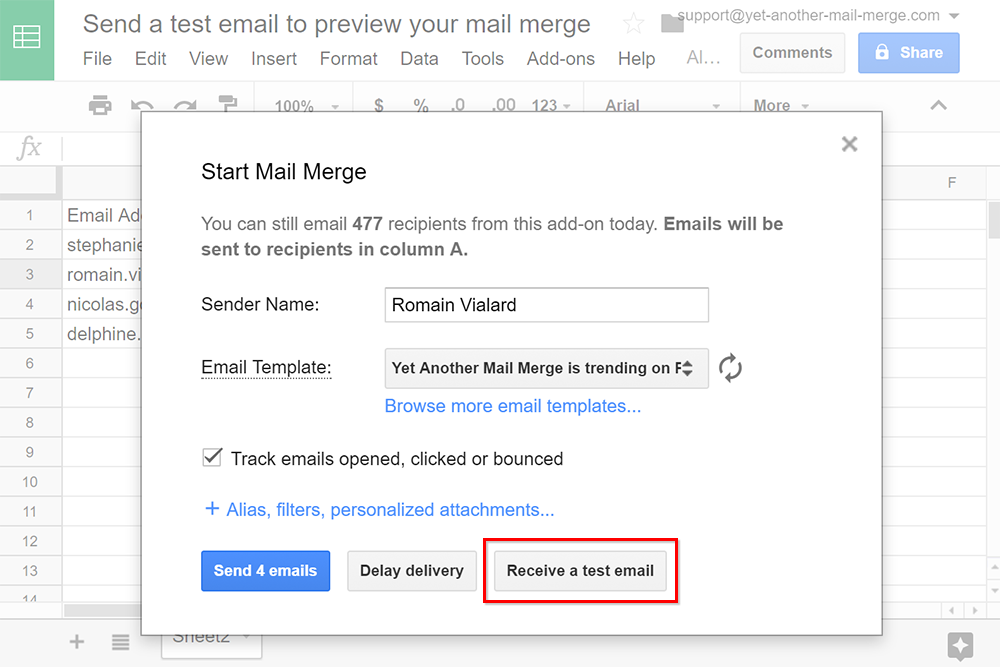 info It can take some time to receive this test email, depending on your email template size.
Once done, click the following blue banner to open the test email directly on your Gmail inbox: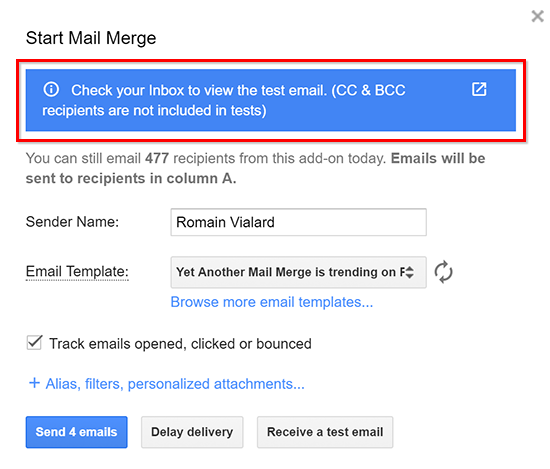 You will receive this test email in your Gmail inbox:

info If you don't see the test email in your Gmail inbox, please check your Gmail 'Sent' folder. Please note that if that happens it will not affect your future campaign.
Open this test email to check if everything looks good: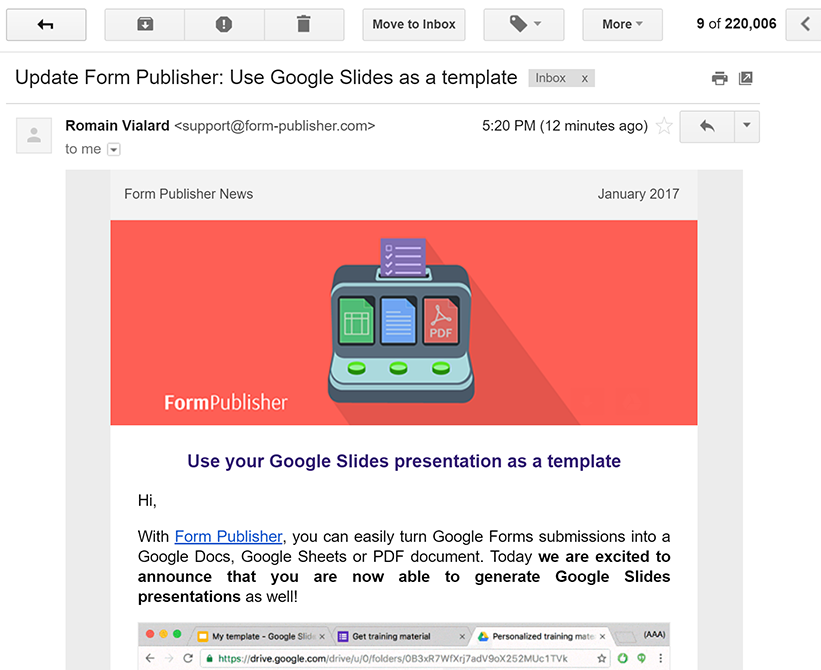 done Once you're happy with it, go back to your Google Sheets and send your mail merge as usual!
Information about the test email option
Which data from spreadsheet are merged to your test email?
If you have personalized your email content with markers (like name, phone number etc.), YAMM will merge the data from the first visible recipient listed on your spreadsheet (i.e. the second row, or the first visible row if you added filters):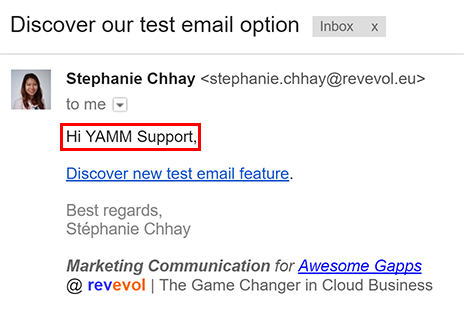 File previews are automatically added to the bottom of the test email
When you include a link in your email template to a Google Doc, Sheet or Slide, the test email will automatically include the preview of the file at the bottom of the email. However, subscribers won't see the preview: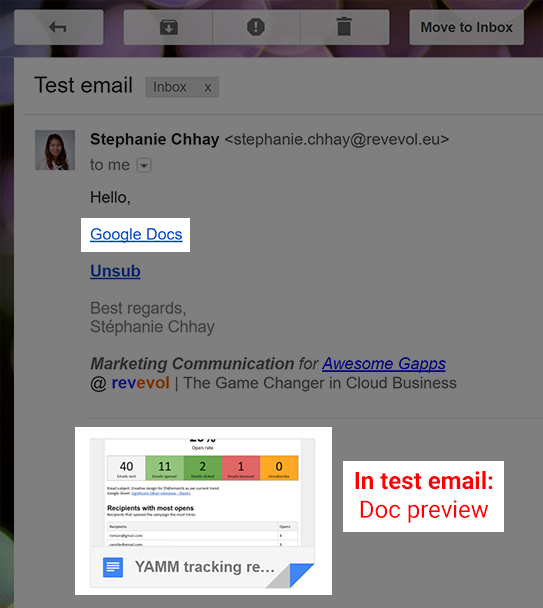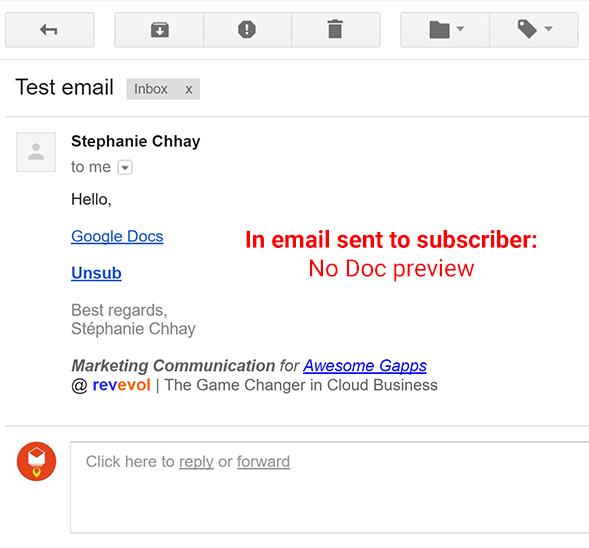 Common issues with the test option
The unsubscribe link doesn't work in test email
In the test email, the unsubscribe link redirects to https://yet-another-mail-merge.com/unsubscribe: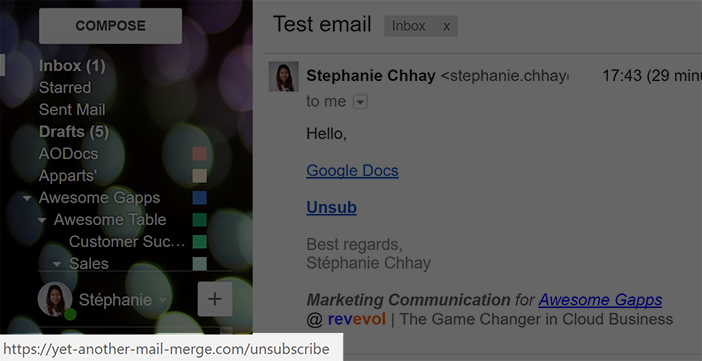 And our unsubscribe feature only works when the tracking tool is activated (which is not the case in a test email). Technically it will work only if it there's the redirection link from our click tracking system (learn more), which begins with https://domain-dot-yamm-track.appspot.com/Unsubscribe?ukey=xxx:

The 'reply-to' doesn't work with the test email
Using custom 'reply-to' will not work when using the test email option.
For example, sending from delphine.leroy@revevol.eu to same account (reply-to: stephanie.chhay@revevol.eu) does not work: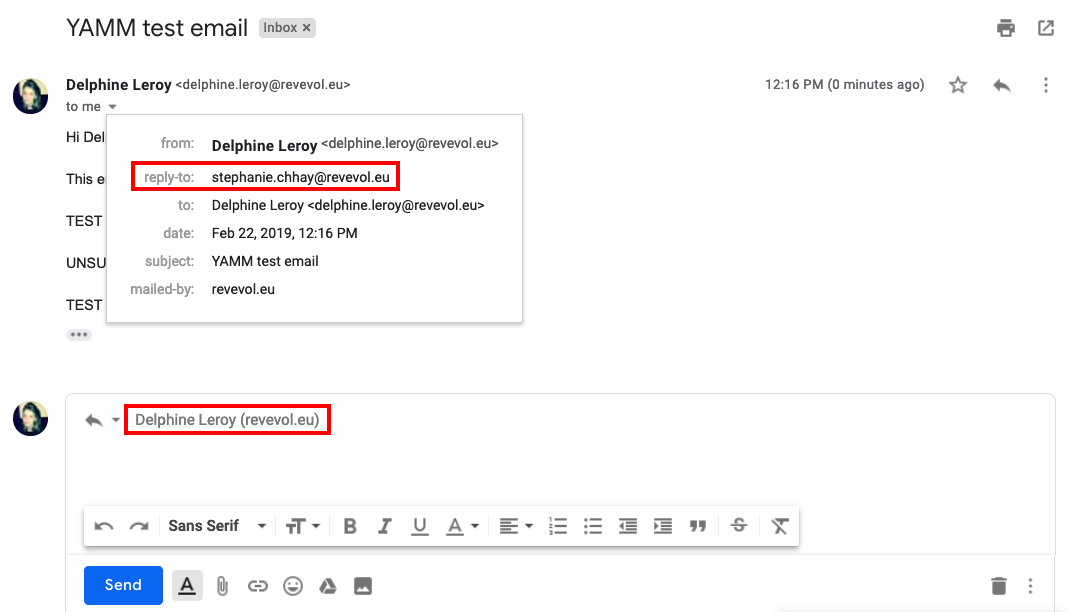 The alias picker and cc recipients don't work with the test email
If you have set up aliases in your Gmail settings, you won't be able to send from your alias with the test email. Gmail automatically skips this alias setting, so the 'From' account on the test email will be the same as your primary account. More information on this article.
If you have added cc/bcc recipients to your spreadsheet, YAMM will also skip these accounts and will only send the test email to your own account without cc recipients.